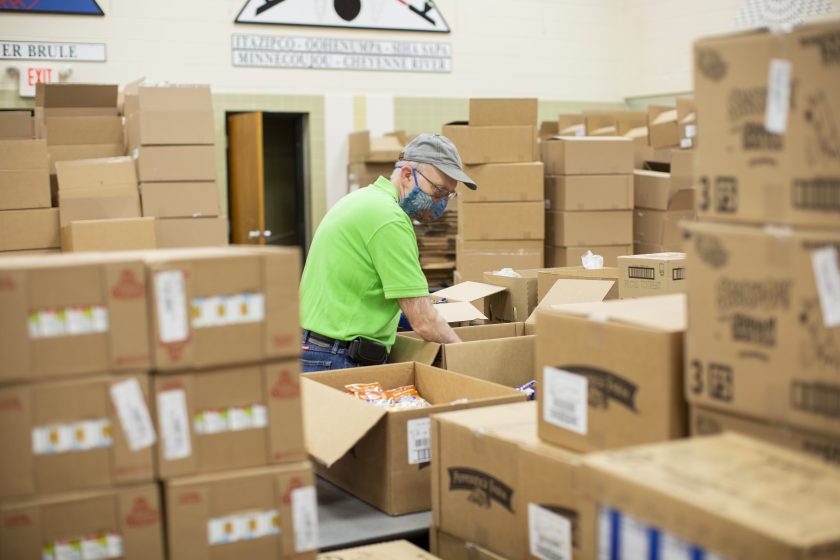 Since the outbreak of COVID-19, the hands of our staff members and donors have been busily at work creating masks for people in need.
In the last several months, we have had 1,453 masks either donated to our school or created by staff members. Because of this, we've been able to share with groups who have needed them the most during the COVID-19 pandemic.
So far, we have donated 457 masks to:
Sanford Health Center Chamberlain – 110
Fort Thompson Indian Health Service – 58
Avera Medical Center, Chamberlain – 55
Wagner School District – 12
Lower Brule Indian Health Service – 102
Crow Creek elder residing at a care center – 130
It's been wonderful to be able to share our masks, but as school approaches, we are now going to be stockpiling masks for our returning staff and students. We estimate each student will need around three or four masks each — kids will be kids and if a mask gets dirty, is misplaced, left at school or their campus home, we want them to have several spares. We also estimate staff will need a few masks of their own, as well, if they happen to misplace or forget their masks at home before coming to work.
With approximately 200 students and even more staff members, it doesn't take long for the math to quickly add up …
We need more masks.
If you are handy with a sewing machine, we would gratefully accept more masks from any supporters who are able to lend a hand with helping us acquire more masks for the 2020-21 school year.
UPS Shipping Address:
St. Joseph's Indian School
1301 N Main Street
Chamberlain, South Dakota 57325
Please send your mask donations to the following address. Philámayaye — thank you — for your love and support!