Today we arrived home after a few days in Pittsburgh for donor appreciation luncheons. We met kind and wonderful people who are part of our St. Joseph's tiyospaye – extended family. I lived in the Pittsburgh area for about a year when I was four, and visited friends there several times during my growing up years, but had never been to the city as an adult. We enjoyed walking around and exploring what the city had to offer. We walked through the campus of Duquesne University, and saw what classrooms and dorms look like at a University.  It's never too early to try to get our Native American youth thinking about college.  As we walked through the cultural and entertainment district, I realized that I have never seen so much black and gold as the community really takes pride in their Pittsburgh Steelers, especially on a home football weekend.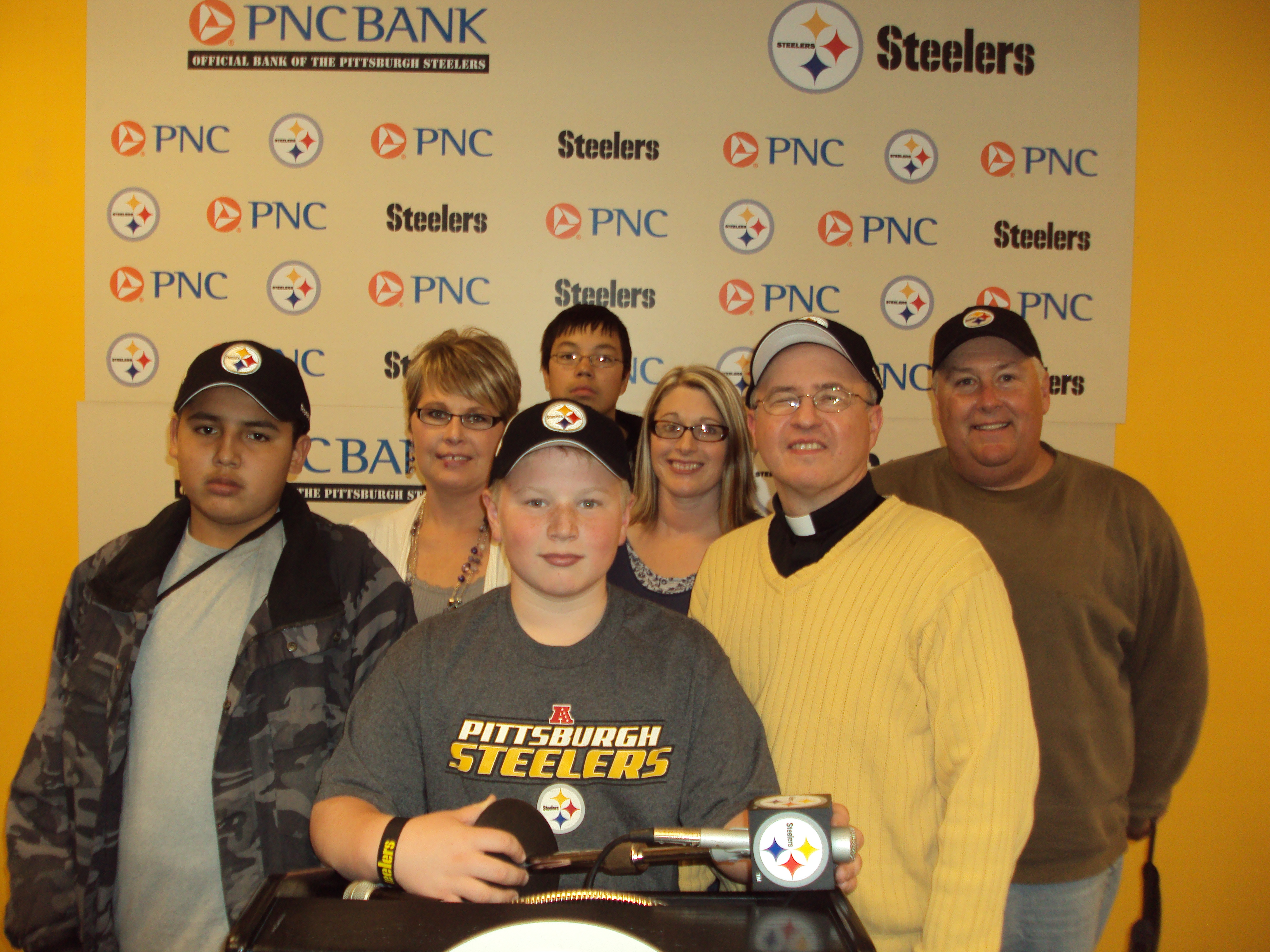 Through the generosity of the Steelers and the Rooney family, our students got to go to the football game against the Cincinnati Bengals. It was my first NFL game as well, and for December, we were blessed with mild temperatures and a beautiful day for a game. We sat mid way up in the end zone, and all five of the Steelers' touchdowns happened in our end of the field.
What I will remember even more than the game, was our visit to the practice facility. I'm fascinated by what goes on behind the scenes in most any business or organization. What impressed our students the most was the room home to the six Super Bowl trophies. What impressed me more, was all the "classrooms" in the facility. To succeed at such a high level takes not only conditioning and physical skill, but being able to learn and out think your opponent. It was a good lesson for our students, who both like sports, but also realize how important using their brain is.
At Friday's luncheon, I reconnected with Joe, who was in the seminary with me during our high school years. He lives in the area and was a wonderful host as he took us up the cable car of the Duquesne Incline for a marvelous view of the city. A tour guide there took great pride in pointing out the history and achievements of the area, and we learned more about the French and Indian wars and General George Washington's place in history.
On Saturday, we had another special guest. St. Pat used to be our principal and later oversaw Pastoral Care at St. Joseph's Indian School. She is now back in her hometown of Pittsburgh was able to grace us with her company. Saturday night, 8th grader Merrill got a visit from his aunt, who drove five hours from her home base in New Jersey just to spend a few hours with him.