Dear Friends of St. Joseph's Indian School,
It was a quiet weekend on St. Joseph's campus. It seemed that a quarter of the students were gone by early Wednesday morning last week for Thanksgiving break. We transport students who come from a distance, so our mini-buses took off early for the journey to key towns in all corners of the state to drop off students and meet families.
The Rosebud and Yankton Tribes send buses to help get students from their areas home, and we are grateful for the teamwork.
Six of the Lakota students stayed in the break home with staff to celebrate the Thanksgiving holiday and enjoy the long weekend.
Our local wildlife seemed to know it was going to be less hectic on campus for a few days. One morning, I walked into a group of about 20 wild turkeys! They were probably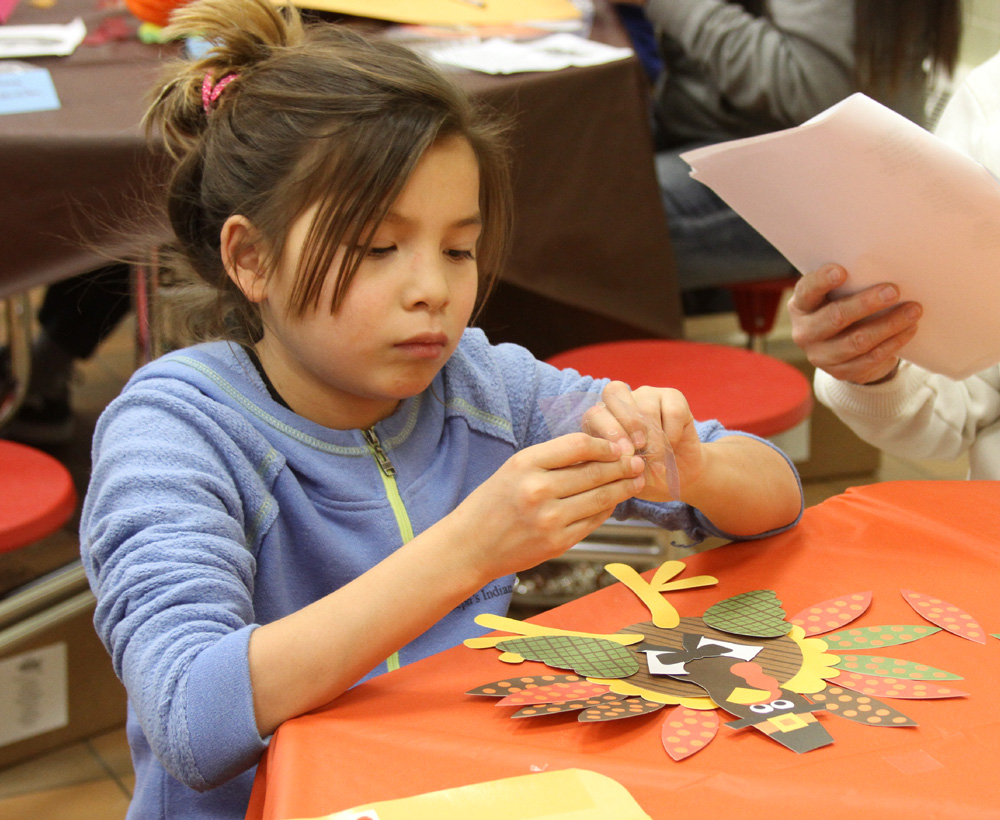 looking for a safe hiding place from the hunters who were still looking for their Thanksgiving dinner…
We've also had several deer crossing campus to get a drink of water out of the Missouri River. I have not seen any pheasants around, but they may be in hiding since the hunting season is still open.
On Friday evening after Thanksgiving the annual Chamberlain Parade of Lights kicked off the Christmas season.  It began with a community chili supper and was followed by a parade through the business district.  The theme this year was "Cowboy Christmas."  The weather cooperated and everyone enjoyed seeing the lights on the floats and waving to Santa as he rolled through town.
All day today, we are holding a special Healing Camp for students who have lost a family member over the last several months.  Some of the students' families are coming to participate in a series of activities, prayer and remembrance. This is a special day set aside to help the students deal with the loss of a loved one now walking the Holy Road.  The program also gives the student the opportunity to begin to let go of the hurt and understand they are not alone.
Please keep the team, the students and the families taking part in your prayers that God will bring healing and peace.
This coming weekend will be busy. On Saturday, teams from Miller, Lower Brule and Pierre will be on campus to take part in the annual St. Joseph's Eighth Grade Basketball Tournament. Mass will be held Saturday evening and, Sunday afternoon, we will enjoy watching some of our students participate in the 'Dancing Dolls and Dudes' performance.  It will be another of those 'meet yourself coming and going' weekends, but lots of fun!
Today was a tasty day at St. Joseph's! We held our annual Sweet Sampler Challenge, which invites staff to bring a favorite holiday treat to share with everyone. We also request the recipe and calorie count.  We are trying to encourage healthy eating, especially during the holidays when there are so many yummy temptations.
I hope you and yours had a great Thanksgiving! We are grateful for your support of the Lakota boys and girls attending St. Joseph's Indian School.  As we move into the Advent Season, may we not be distracted by all the external preparation for Christmas that we forget the real reason for the season.  May God's blessings be with all of you through the month of December and coming New Year!
Sincerely,
Fr. Anthony Kluckman, SCJ
Chaplain