Whew!  It's all over.
Our 89th school year has come to a close with the graduation of our high school students on Mother's Day and our 8th graders on May 26.  On May 25 and 26, all students returned home to their families for the summer.
HIGH SCHOOL GRADUATES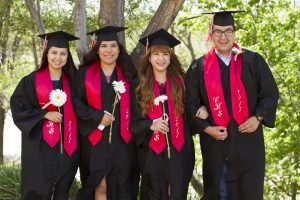 Our four high school graduates—Justin, Danielle, Lilly and Ashley—joined their classmates to walk across the stage, receive their diplomas and take the first steps into their futures.  Justin is looking forward to learning how to weld, Danielle will study nursing, Lilly is interested in Astrophysics and Ashely is currently undecided.  We wish our grads all the best as they walk the path the Great Spirit opens before them.
EIGHTH GRADE GRADUATES
Our sixteen 8th graders were surrounded by many family, friends, fellow students and staff as they entered their graduation ceremony on May 26.  We have a tradition of reading a brief bio of each student as they walk in that highlights where and when they were born, what tribe they are a member of, what their fondest memory of St. Joseph's Indian School is and what their future dreams are.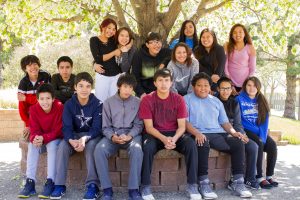 Several of the graduates mentioned their 7th Grade Cultural Trip as a highlight, since it exposed them to locales important to their heritage and helped them bond with their peers and staff.
The graduates were also honored to have Jessica Poor Bear, our 2017 Distinguished Alumna, as the commencement speaker. Jessica currently serves as a lawyer on the Cheyenne River Reservation.
The ceremony ended with the graduates forming a receiving line so everyone could have the chance to extend their congratulations.  The youth who are going into St. Joseph's High School Program are already back on campus to take part in the freshman orientation program.
Be sure to view our 8th grade graduation video here: https://youtu.be/aYtP7O5H2hc!
CULTURAL TRIP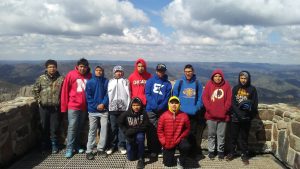 After months of preparation, St. Joseph's incoming 8th grade students embarked on a week-long trip late May. The journey took them to Native American sites of cultural, spiritual and historical significance in South Dakota, Nebraska, Montana and Wyoming.
After their week-long excursion, the 7th graders gave presentations to each of the other classes on what they had learned and how the trip had affected them.
GOODBYE AND PILAMAYA
St. Joseph's students also had a chance during the last week of school to say goodbye and pilamaya – thank you – to house parents, teachers and counselors who will not be at St. Joseph's next school year.
All students and staff gathered in the Rec Center where the students could sign their names and offer words of encouragement and thanks in a booklet that was presented to those leaving (along with special gifts).  Each staff member who is leaving was also honored in a receiving line where hugs and handshakes were given as we said goodbye and wished our departing staff success in whatever their futures hold.
THANK YOU DEACON BUD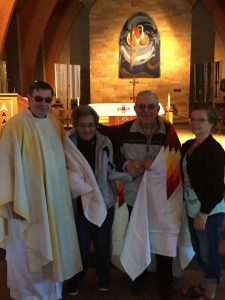 On May 21, St. Joseph's also had the chance to say goodbye to another individual who has been a fixture here at St. Joseph's for the last 15 years. Deacon Bud Jetty was honored and recognized for his years of service helping us with the liturgy here at St. Joseph's. We also took a moment to express our thanks for his many years as a St. Joseph's Board Member.
Deacon Bud is now officially retired and he and his wife, Frances, will soon be leaving the Chamberlain area.  We wish them well with whatever the future holds and we express our gratitude for their support of St. Joseph's.
This week's blog talked about things coming to an end.  Next week I'll try to share items that are still continuing to prepare our students for the present and future.
I hope you all had a wonderful Memorial Day, remembering those who gave their tomorrows so we can enjoy freedom today.  May they rest in peace.
Fr. Anthony Kluckman, SCJ
Chaplain