Good day from St. Joseph's Indian School!
As the school year wound down throughout the month of May, our students kept active!  Many of the Homes took their year-end trips to Sioux Falls, Rapid City, Pierre or Minnesota.  The various classes also took day trips to visit local points of interest.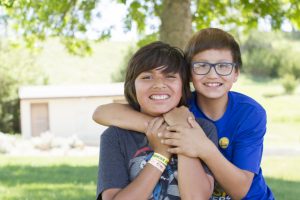 Though the students always get excited about going off campus to visit various sites, they also like to be involved in what is happening in the local Chamberlain-Oacoma area.
CIRCUS
In mid-April, the Chamberlain Big Bend Shrine Club Circus came to town.  The students were excited about having the chance to ride an elephant, camel or pony.  They also were excited about seeing clowns and the acts of the circus performers—especially those working with lions and tigers.
DRUM GROUP
Our drum group was asked to take part in an Honoring Ceremony at Chamberlain High School for the graduating class.  They were also involved in the Chamberlain High School Wacipi- powwow– as one of the drum groups providing songs for the dancers.
HAND GAMES TOURNAMENT
Recently, St. Joseph's hosted a hand games tournament among 11 schools.  There was no dividing into age groups, so younger students could knock off high school students.  What impressed me was that not all the contests had an elder judging the competition… the students were doing that themselves.  When I mentioned this to our Native American Studies teacher, LaRayne, she responded this was done out of respect, a sense of honesty and the spirit of competing.  This is something they take seriously as it is part of their heritage.
SOBRIETY WALK
On April 28th, St. Joseph's held its 22nd Annual Sobriety Walk.  The 1-6 graders gathered in the school gym to hear our guest speaker Kansas share his history of dealing with drugs and alcohol in his younger days. In addition to sharing a little about his past, he also talked with them about the many road blocks in his life.  He was constantly moving around- living on all the reservations here in South Dakota and four in North Dakota which caused him to ask where he fitted in.
Fortunately, his grandmother gave him love and support and stressed the importance of education, which helped him make some tough decisions so he could regain control of his life.  He shared his academic success and how he wants to empower young people to have a dream and work hard to achieve it. He also stated his desire to be a good example for his children who are his pride and joy.  After his speech, he welcomed questions from the students.
Soon after, the students gathered to begin the Sobriety Walk into Chamberlain.  We had four different groups who split up as they entered Chamberlain so they could cover more area to give witness that drugs and alcohol are not things to be involved with.  As the walkers made their way back to campus, they headed to the dining room where all shared a meal together.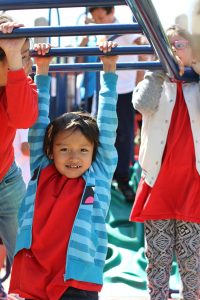 After the meal, the 7th through 12th grades had the chance to hear Kansas's presentation and ask questions.  Each student was given a shirt that bore the winning design—a cross enwrapped in a banner with the words 'If you can DREAM IT, you can ACHIEVE IT. Drugs don't achieve your DREAMS'.
4-H DAY
Recently, St. Joseph's 4th graders had the chance to join 4th graders from Kimball and Chamberlain for a day at the Brule County Ag Building. The students learned about agricultural from eight educational stations, including production agriculture, conservation and 4-H in general.  Additionally, the students had the chance to get up close and personal with some local livestock. The local 4-H Club President, Buster, said "Ag Day is an event all our club members look forward to sharing with other kids in the area; and that they are already looking toward growing the event next year so more can take part."
May God's blessings continue to be with you.  Thank you for your continued support- enabling our students to take part in the activities mentioned above.  May He also bless you with the opportunity to explore and try new things in the world about you.
Fr. Anthony Kluckman, SCJ