The day is finally here!
After a lot of planning, five staff members of St. Joseph's Indian School have left their office space in the Nagel Business Office and relocated to a new Personal Care Center at 111 S. Main Street in Chamberlain. The space was previously the home of the St. Joseph's Thrift Store, which moved further north on Main Street into a much larger space with adjacent receiving space for donated items.
The staff members include our first four Personal Care Specialists and our first Major Gift Officer, but we know them simply as Tina, Marge, Shirley, Shawn and Brian. They are excited to start this new adventure!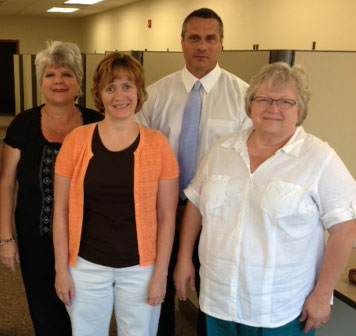 The addition of the Personal Care Center is another step in the development of our Major Gifts Program and an important part of our Decade of Transformation and strategic plan.
The Personal Care Center staff will focus their efforts (phone calls, letters, e-mails, personal visits) on St. Joseph's top donors.  Each and every gift counts, but the efforts of the staff at the Personal Care Center will focus on top donors who have made, or may have the ability to, make larger gifts.
To continue to meet the needs of the Native American students at St. Joseph's and plan for the future, we need to focus on developing deeper relationships with these donors.  Our first step will be to reach out to these generous supporters to let them know their support is appreciated and is making a difference in the lives of our Lakota (Sioux) students!
The Personal Care Center has room for 12 staff but, for right now, five is a great start. We're looking forward to visiting with you!