Have you ever traveled roughly 2,000 miles in ten days and never left your state?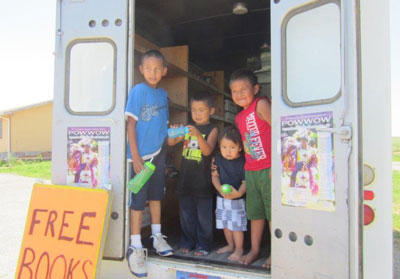 You would have if you traveled along on the St. Joseph's Indian School Bookmobile! This is one of my favorite activities of the summer.  We travel to 32 communities on reservations in South Dakota giving out books, both new and gently used.
My name is Mary Jane.  I am the Outreach/Alumni Coordinator at St. Joseph's.  For the last several summers, I have traveled with the bookmobile giving out free books, meeting new folks as well as former students of St. Joseph's.
This summer we started our journey heading north to the Cheyenne River Indian Reservation.  We visited 13 communities.
White Horse, South Dakota, was the smallest community we visited. There, we had 15 children total.  When we drove in to town, we were spotted by three Lakota girls out riding their bikes.   They followed us and picked up a few friends on the way.
The girls were so happy to see us and to learn that they could pick out their own FREE books and that they got to KEEP them!! As we left, they told us to come back again.  They would be waiting!  J
In Eagle Butte, South Dakota, we saw the most children – well over 100 in three separate stops.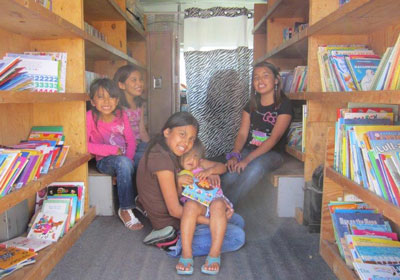 The following week, after reloading the van, we headed south to the Rosebud and Pine Ridge Indian Reservations, visiting 16 communities and distributing 1140 new books and 1710+ used books.
Mission, which is on the Rosebud Indian Reservation, was one of our biggest stops.  There were over 50 children at the local Boys & Girls Club.  Some were busy planting a garden, but were eager to take a break and pick out their books.
Our smallest stop this trip was in Kyle, South Dakota, on the Pine Ridge Indian Reservation.  There we saw six children and two adults.  A Native American father brought his two young children to choose their books.  He was so excited to be able to have something to read to them! Luckily, we had some books for very small children packed away in a 'special' box.  We made sure he had a bag of books for him and his two young girls.  He was very grateful.
As he got off the bookmobile, he reached out to shake our hands and said, "Keep up the good work.  You are doing a wonderful job.  Thank you!"

The Lakota children are always happy to see St. Joseph's Bookmobile!
All along our journey, we distributed boxes of used books, crayons, notebooks, construction paper and some dictionaries to various Boys & Girls Clubs, daycares and others who were in need of these items for their programs.
What's the best part of this summer adventure?  Meeting new people as well as former students and seeing children's eyes light up when they get to have their books!
See how many books you helped us share this year!