I hope everyone had a beautiful and blessed Easter.  It was a quiet weekend as most of our students were away for the Easter break.
All sorts of activity has taken place recently.  The eighth grade boys' and girls' basketball teams took on the staff and there were some exciting finishes.  The girls only had five players, so there was no break for them. The staff could keep sending in waves of replacements. Even so, the girls hung on for a 30 to 29 win.  The boys had the lead until the very end and came up one point short, losing 47-46.
The staff who take part in our student mentoring program recently attended a hockey game in Sioux Falls at the new Denny Sanford Premier Center.  The following night nearly 70 students and staff again made the journey to Sioux Falls; this time to watch the home opener of the Sioux Falls Storm indoor football team taking on the Billings, Montana Wolves.  It is an interesting game to watch with balls flying over the barriers surrounding the 'indoor field' and into the appreciative audience who gets to keep the football.  The Storm, four time defending champ, finally caught fire and won 56-41.  After the game, players are available for signatures. Several went out of their way to take some quality time with our younger students.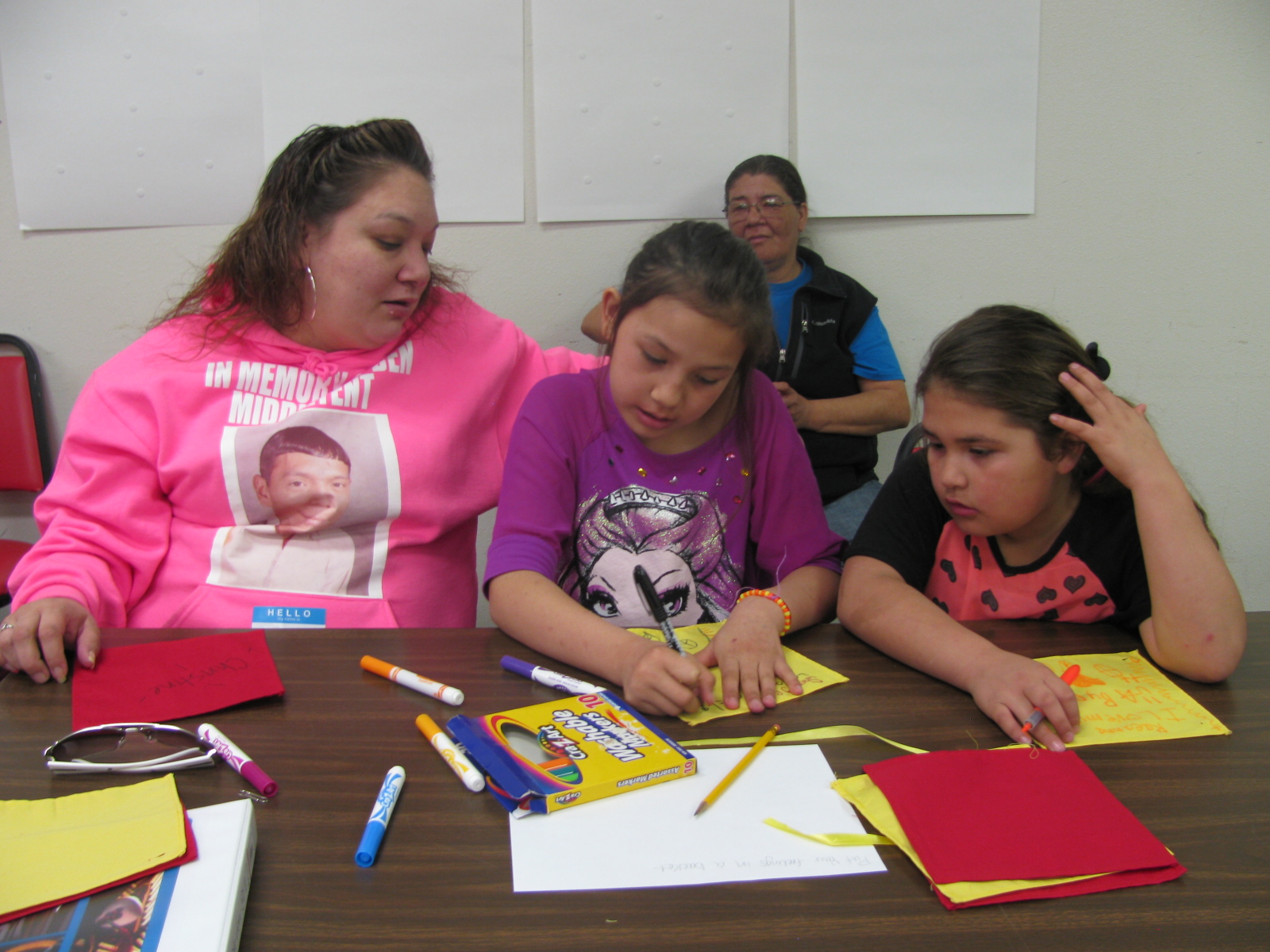 The athletic spirit hit St. Joseph's last week as spring football for fourth, fifth and sixth graders kicked off combining St. Joseph's students with local Chamberlain players.  The sign-up sheets were also out for t-ball for the younger students and softball for fifth, sixth, seventh and eighth grade.
On the weekend of March 27 and 28, our Family Engagement Program held its first family training program called 'Family ACT (All Coming Together)' at Lower Brule, SD.  In the past, families were invited to campus to take part in similar activities. We are now conducting reach outs on the various reservations so more families can attend.   Twenty-one families participated in sessions, activities and discussions while enjoying great food and fun.  The training covered issues such as setting healthy family goals, defining and honoring family, stress and balance, managing finances and honoring children through respectful, healthy relationships.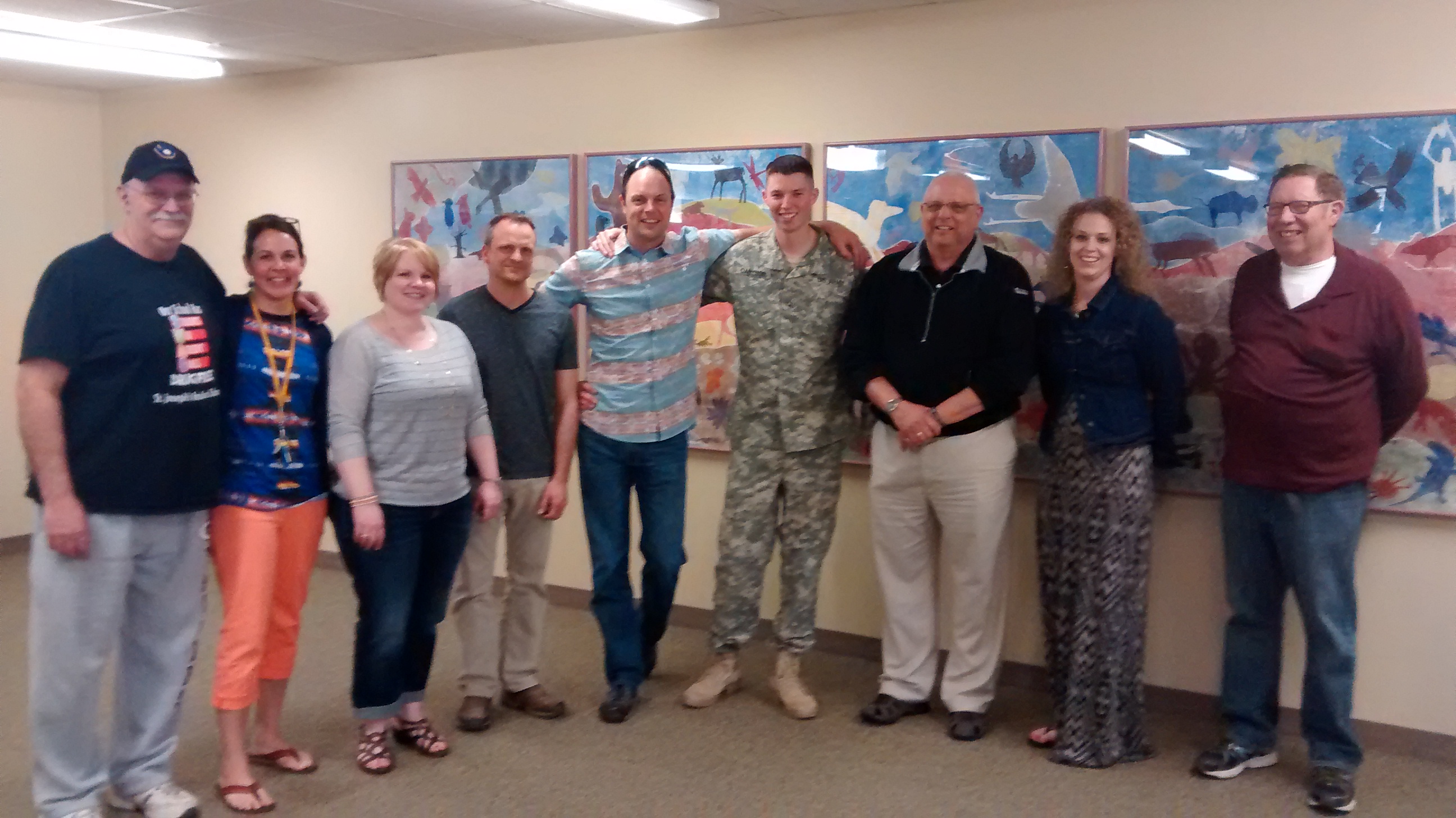 April is Native American Career Month and St. Joseph's was happy to welcome home alumnus, PFC KP Davidson, who came with Staff Sargent Tate, the Army recruiter in Rapid City, SD. KP came to St. Joseph's as a seventh grader in 2006 and completed his junior year in 2011 before making the tough decision to finish high school in Eagle Butte, SD to be near his family.  After graduation he took a course in auto mechanics at Wyoming Tech.  He did his basic training at Ft. Benning, Georgia and just got back from a nine month deployment in Egypt.   KP enjoyed experiencing a new culture and had the chance to visit Israel, but not the pyramids.  He shared some of his experiences from when he attended St. Joseph's Indian School, telling the students he was homesick at times, but found support and encouragement from his teachers and houseparents.  He urged the students to stick with it, not to get behind in their studies and not to do drugs.  He and Staff Sargent Tate shared opportunities that exist in the Army and answered questions about pay, schooling, job opportunities and shooting different fire arms. He also shared that there is no similarity to reality of war compared to what one experiences in video games. He is currently on leave but will be heading back to his unit at Ft. Hood in Texas.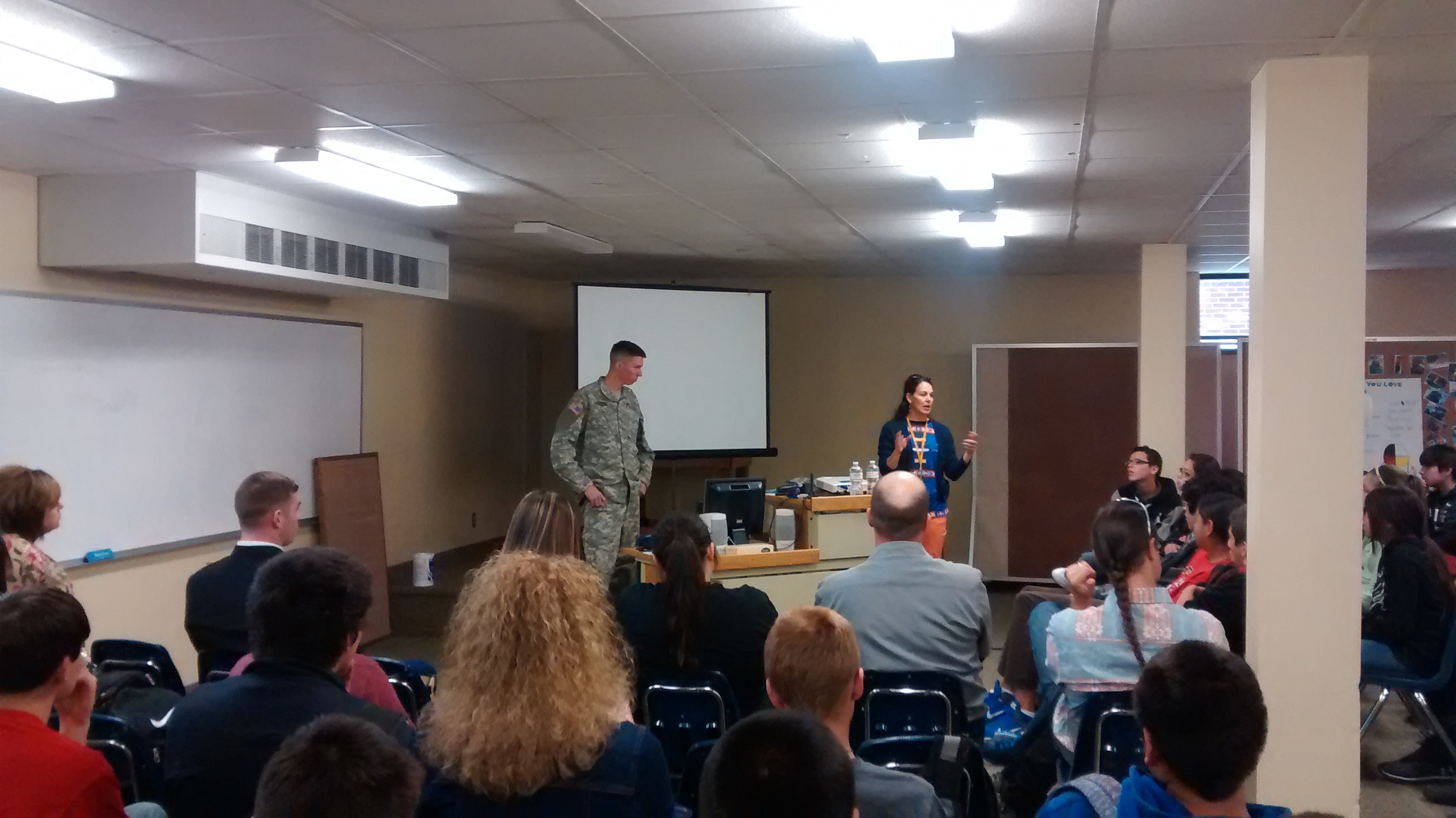 One final note.  We have another donor luncheon coming up in Panama City, Florida on April 25th and 26th.  If you would like to attend or receive additional information, please call 1-800-584-9200.  Two of our high school students will be there to share insight into what St. Joseph's is all about and to express their gratitude for your generosity.  Our next donor luncheon will be in New York City on June 7th and 8th.
May God continue to bless and reward you for your generous support of the Lakota boys and girls. We keep you and your special intentions in our prayers.
Fr. Anthony Kluckman, SCJ
Chaplain