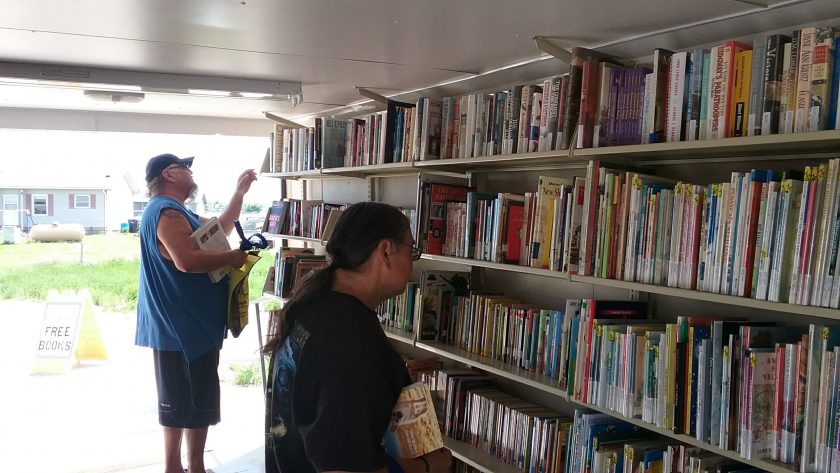 The following is a reflection written by two St. Joseph's Houseparents, Mike and Bette, who participated in St. Joseph's Indian School outreach program: The Bookmobile. This is their experience in their own words.
We were happy to be chosen again this year to participate in the Bookmobile program for St. Joseph's Indian School. We had the honor of accompanying the rest of the team, Andy and Julie. For three days, we traveled a route taking us to the South Dakota reservation communities of Wanblee, Potato Creek, Kyle, Porcupine, Manderson, Pine Ridge, Oglala, and Lower Brule and its surrounding area.
We arrived early the first and second days of our trip to stock the shelves of the Bookmobile. We were amazed by the selection and quality of the books we'd be giving to others for free! Along with the books, Andy, the group leader, arranged for some drinks and snacks to be handed out at each stop – an added treat for visitors.
While making Bookmobile stops, we had information available about St. Joseph's. We also had school applications for parents to fill-out if they showed interest in enrolling their children. One mother said she really wants her son to attend St. Joseph's. She said he struggles where he attends now, and she's heard of St. Joseph's great reputation. It was really sweet to hear kind words so many had to say about our school.
There was a great selection of books this year! The adults enjoyed the cookbooks and Native American books. The younger girls loved the "Junie B. Jones" books and the boys loved the "Lego" and "Goosebumps" books. "Dear Dumb Diary" books were also popular.
Each location had some great moments. We interacted with all the guests in directing them to age-appropriate books, or if they wanted to explore a certain topic or genre. A few other favorite moments were seeing Andy (who has worked at St. Joseph's for 40-plus years) interact with St. Joseph's alumni who stopped by to visit. It was also fun seeing Julie visit with others. One mother trusted Julie to hold her baby while she searched for books. That was really special!
The highlight of our trip was the joy each and every visitor brought with them to the Bookmobile. People of all ages visited — some in droves, some just a few at a time — but everyone brought a smile and an attitude of gratitude. Some even gave hugs! It was very rewarding to see their eagerness to read.
Traveling with the Bookmobile was indeed a blessing for us. We know by the joy shown on the faces of others that it was a blessing to them, too.
Pilamaya – thank you – to our generous supporters who make it possible for St. Joseph's to distribute the love of reading to South Dakota reservations. Because of you, we can bless others and give away books at no cost!