Saturday, July 24, 2010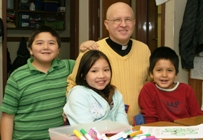 I took it easy today, spending most of my time at home puttering around with different odds and ends. In the evening I drove 40 miles to the parish in Stephan for mass. My former parishioners have let me know they've been praying hard for my recovery. This was a good time to join them for prayer. Being with them in person reassured them that our prayers are being answered.
It had been a while since I'd been to church there. As the families continue to grow and flourish I saw several new babies that I had to get introduced to – new life for the families and continued life for the church.