Friday, July 23, 2010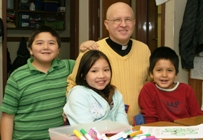 Today was a memorable day in three ways:
Brother Clay's vow renewal
Shooting a TV interview
Taking part in Chamberlain's Relay for Life
Brother Clay renews annual vows
When first joining the SCJ's, one must profess annual vows for at least three years before being eligible for Final Vows. This gives you the chance to really decide if this vocation is where you find meaning and are fulfilled.
This morning we went to the downtown parish for mass, and were joined by two of the SCJ priests in Lower Brule as well. Before Fr. Bill, Clay renewed his vows and prayed an act of oblation. Watching his fervor, I prayed that I can recapture more of the passion I had in my early days; to give myself more fully to God. Afterward we all went out to breakfast at Casey's restaurant.
Brule band member visits St. Joseph's
Paul LaRouche of the musical group Brule produces a TV show for RFD TV. It is called Hidden Heritage. Paul is from the Lower Brule Sioux Tribe. He was adopted as an infant, and never knew of his heritage and roots until he was an adult. His show highlights positive projects and people in Indian country.
Brule performs around the country, and Paul has been asked many times about
St. Joseph Indian School. He figured what we do here would make an interesting feature. Paul has known about St. Joseph's since childhood – remembering pictures stuck to the refrigerator in his home.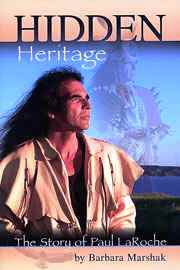 We sat outside to take advantage of the lovely day, and Paul put me right at ease during the interview. I gave an overview of our programs. We don't have many students on campus these last weeks of summer, but three of our high school students who are working here were able to show him around and talk about their experience.
When we were touring the museum, visitors found out who Paul was. There were a few who immediately bought one of his CD's to have autographed.
Chamberlain's Relay for Life
The last event of the day was the Relay for Life … to remember those who have died from cancer and celebrate those who have survived. Last year was the first time I was able to participate as a supporter, and was very moved by the whole event. Little did I imagine that one year later I'd be wearing a survivor's shirt and walking the first lap with others who have done battle with cancer and come out on top.
The festivities were cut short when a big storm rolled in and sent everyone scattering for cover. We got pea and marble sized hail and heavy winds. A full but wonderful day all around.