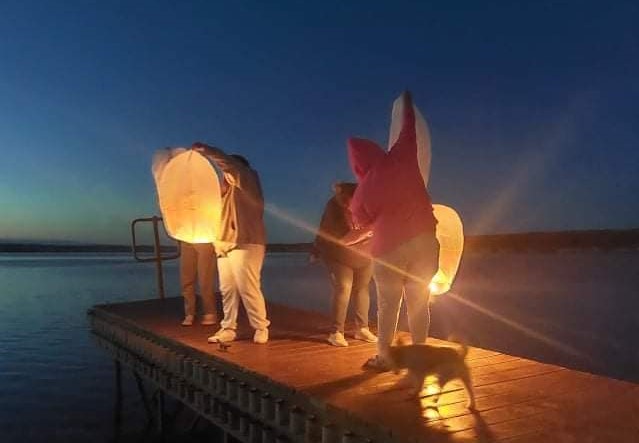 The sun was not yet awake as a group of high school girls and houseparents from St. Joseph's Indian School made their way to the Missouri River's edge. The sky was a dark navy, matching the blue of the waves slapping the pier. As the vehicle's headlights clicked off, darkness of the early morning surrounded them.
In their hearts, they carried with them loss and sadness. In their hands, they carried memorial lanterns.
"The girls in our home have experienced a lot of grief and loss this year. Between COVID and the suicide rates among Native American population, there is not one student in our home who isn't affected," said Tia and David, houseparents at St. Joseph's. "We are trying to help the girls learn to move through grief in healthy ways."
Indigenous Americans have the highest actual COVID-19 mortality rates nationwide, and historically, the suicide rate for Native American residents of South Dakota is estimated to be 2.5 times higher than other populations, according to the department of health.
Together, both circumstances have brought a lot of hardship and heartache. However, working through this grief is at the forefront.
The girls had written prayers, notes, and special memories on their lanterns. The morning proved to be particularly cold for October, and the wind whipped suddenly. The girls and houseparents had to work together and help each other light the lanterns.
"We had to shield each girl from the breeze as she got her lantern ready," said Tia and David. "It was a lesson about how we are dependent on each other when we are vulnerable."
After releasing the glowing lanterns, the group quietly watched the sunrise and shared their favorite memories of the loved ones they have lost.
"We talked about how the best way to honor them is to carry their love and our memories of them forward. To live a healthy, happy life that they would make them proud."
They had arrived holding grief and a lantern, but they left holding each other with hope binding them together. It was a beautiful morning.
To learn more about St. Joseph's Indian School, visit www.stjo.org.