Greetings once again from South Dakota – the land spring has forgotten!  Although we have not had any of the snow that Rapid City and the Black Hills have received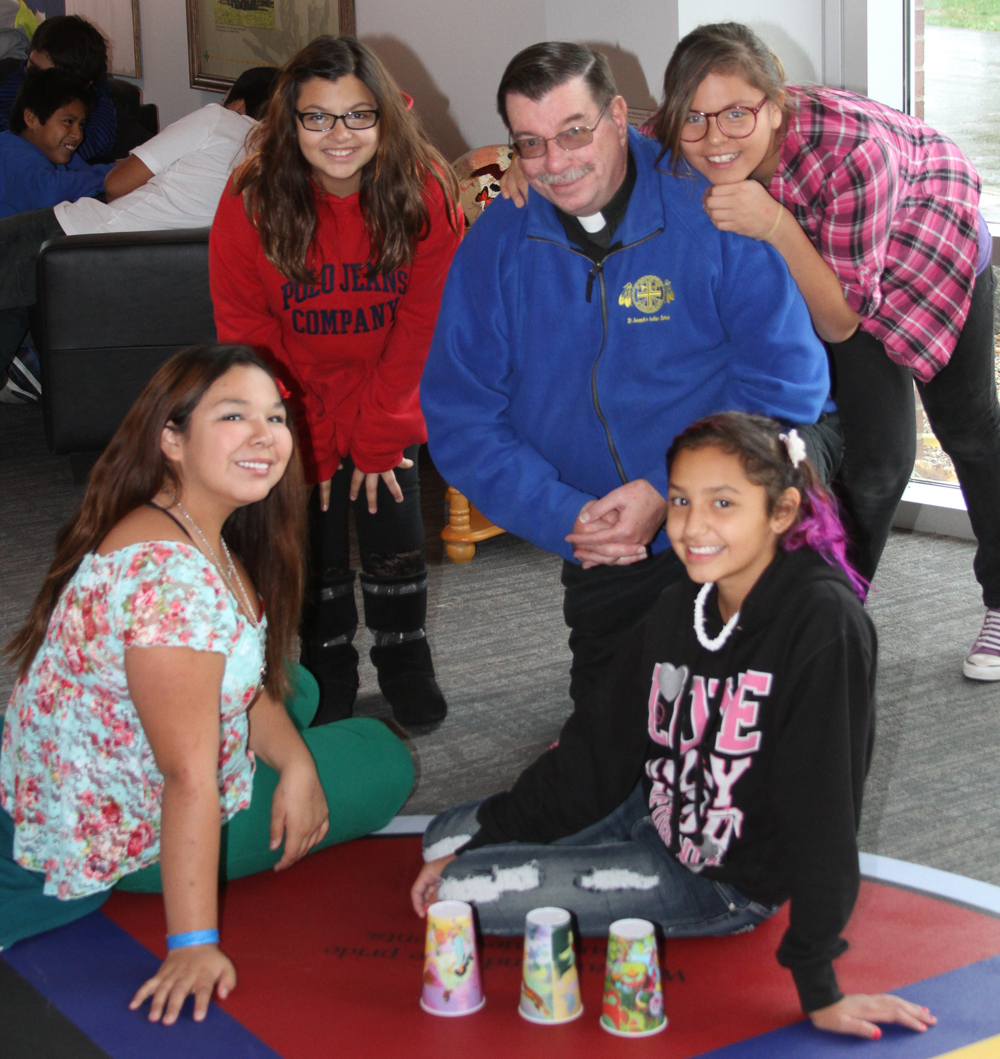 recently, it has been cold and wet over the last few weekends.  We are grateful for the moisture, but would be happy to share some of it with the drought areas in California.
As the school year winds down, activities pick up for the Lakota (Sioux) students.  Over the last two weekends, 11 of our 19 homes have been away on their home trips.  Some have gone shopping in the Sioux Falls area and others have headed out to the Black Hills.  This coming week will see the seventh graders head out on their cultural trip to explore various sites in South Dakota and the neighboring states that have Native American cultural and historical impact.  They'll be back on campus prior to graduation on May 23.
St. Joseph's high school students have also had a variety of activities take place, including end of the year awards. Last Monday was the academic awards banquet:
Students who took part in the one act play were awarded a Superior Play & Acting Award on the State level;
Robert and Kyran were recognized for taking part in Boys' State;
Senior Errol was honored as a Regent Scholar and recipient of the Al Mueller Memorial Scholarship and the Ruth Potter Memorial/Dakota Indian Foundation Award.
Wednesday, St. Joseph's seniors were honored at a prayer service and reception where Cody was awarded the Jerry Vaad Memorial.   This award is in honor of a long-time employee in the athletic department at St. Joseph's Indian School. It is awarded to the graduate who best exemplifies sharing of time and talent with other members of his or her tiyospaye – extended family – on campus.
Friday came and it was time for athletic awards:
One of our new students this year, Danny, won the most improved award for golf;
Shawn was mentioned for making all-conference honorable mention in football;
Gabe was designated most inspirational for boys' basketball;
Adrian won the JV Most Valuable Player award;
Jacob was considered the most inspirational on the high school track team;
Senior Reuben was honored for being a basketball team captain and making all-conference.
Chamberlain High School only has three days of classes left, so tomorrow night is the Baccalaureate service the United Church of Christ. It will be a special moment for all the seniors as they look back at their accomplishments and ahead to their graduation on May 18.  Please keep them and their future plans in your prayers. Read more about them here.
Have a great week and know you are being remembered in our Novena of Masses offered the 11th through the 19th of each month. May God continue to bless and reward you for your generosity towards the Lakota boys and girls at St. Joseph's Indian School.
Fr. Anthony Kluckman, SCJ
Chaplain