St. Joseph's seventh graders have embarked on their annual trip to learn more about Lakota (Sioux) culture. Fr. Jose and I gave them a day's head start, and then caught up with them in Sturgis, South Dakota, after they had climbed Bear Butte with prayer ties – a cultural and spiritual pilgrimage.
Fr. Jose hails from Portugal, and this is his first visit to the Black Hills. He has read much about the history and culture of the Native American people in this area while working on his thesis – he is excited to take in as much as he can.
After he saw so many billboards along the way, we had to stop at Wall Drug for him to experience that piece of Americana. He had his picture taken by the 20-foot jackelope and had a 5 cent cup of coffee – I had a signature free ice water – and we continued on the journey west.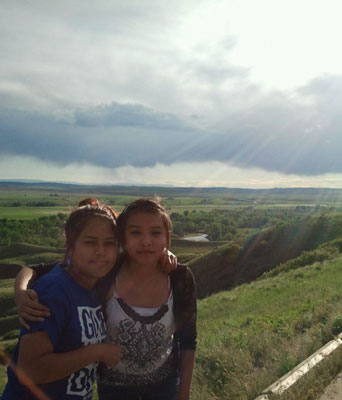 We met one of St. Joseph's white mini buses pulling into the grocery store in Sturgis. The boys told us of their time on Bear Butte, a sacred prayer hill that is the northeastern gateway to the Black Hills. The journey helped bind them more closely together and they were calling themselves "Brothers of Heritage."
It's our hope that bonding like this helps prepare them for leadership as they begin eighth grade next year.
Kevin Costner, the actor, was planning to build a hotel and resort in Deadwood that never came to fruition. He commissioned huge and magnificent bronzes of the tatanka (buffalo) showing Native American hunters chasing them over a buffalo jump, so their people could have food to live and grow strong.
Instead of a resort, Costner built a visitor center that tells the story of these magnificent creatures. It was my first time visiting.
A guide spoke to us about the medicine wheel. It's a symbol we're very familiar with at St. Joseph's Indian School. However, she expanded my understanding by explaining some of those values that people learned from observing tatanka.
Bravery – when hunters tried to decimate the historic herds with rifles, they thought the buffalo were stupid because the ones in the front of the herd did not flee. What they were doing was standing their ground, protecting the ones behind them. They would not back down, but faced the danger with courage.
She also told of how during a blizzard, mother buffalo would dig though up to four feet of snow to find the grass underneath and provide food for the herd. Again, they persevered with great fortitude and did not give up during hard times – a good lesson for us all to learn.
We came back to the campground for a meal with the girls, and then celebrated mass in one of the cabins. Fr. Jose teased that it was the smallest chapel he'd ever celebrated mass in. It made for a more homey, intimate setting and each of the girls added their own personal prayers during the petitions.
We have the students take quiet time to journal each day of the trip. Besides preserving memories, we want them to reflect on their experience and see what they have learned. As the sun set, we gathered around picnic tables outside the cabins and had a talking circle. The girls shared things they remembered from the day, lessons learned, and why they are on this trip.
Some of the girls also spoke of anxiety about going home for the summer due to family struggles. Knowing that is part of what they face in life, giving them a strong grounding in the values that can see them through hard times is even more critical.