Sunday, July 25, 2010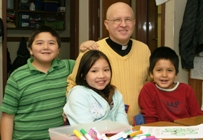 I like to shop local, but there are always a few things that I can't get in Chamberlain, South Dakota. Every so often I take a trip to the "Big City" (in this case Mitchell, population 14,000) to stock up on supplies.
This was my first shopping spree since I had the surgery two months ago … so my list had grown. Pushing a shopping cart around the big box stores is not as much fun when your leg hurts, but after a couple of stops I managed to fill the cart with the things I needed.
The hour drive each way was actually quite relaxing, and I listened to CD's that friends had sent. I'm eclectic in my musical tastes and listened to church music, Columbian Cumbias and traditional Hawaiian songs.
In the evening, Lou – former student and parishioner – dropped by. He heard I was recovering and wanted to see how I was doing. After we chatted a while he said it had been many years since he'd been back, so we took a tour around campus. I learned many things from him, especially how the dorms were set up during the time before we had homes.