Over the weekend I returned to one of my former parishes up the road in Stephan, South Dakota to officiate at the wedding of a young couple who both graduated from college last year. The small church was filled to capacity with family and friends.  We don't have fancy reception halls in our area, so the family machine shop on the ranch was transformed first into a banquet hall, and then later in the evening a dance hall.
Congratulations to Augie and Dani!
After church today, as I sat down for brunch in the Fisher Home (6th – 8th grade boys), Fr. Anthony tracked me down to let me know a couple of donors from Philadelphia area were on St. Joseph's Indian School's campus hoping to meet me. I invited them to come over and meet the boys. On opening weekend of NFL football, Trenton had on a Philadelphia Eagle's jersey, which brought a big grin to our guests' faces. Trenton and Elliott gave them a good tour of the home. Carol said that they've been supporting St. Joseph's for many years, but being here in person, and seeing all that is involved makes it come alive in a much more substantial way. Afterwards  I showed them a few more sights on campus before they headed out to explore the West.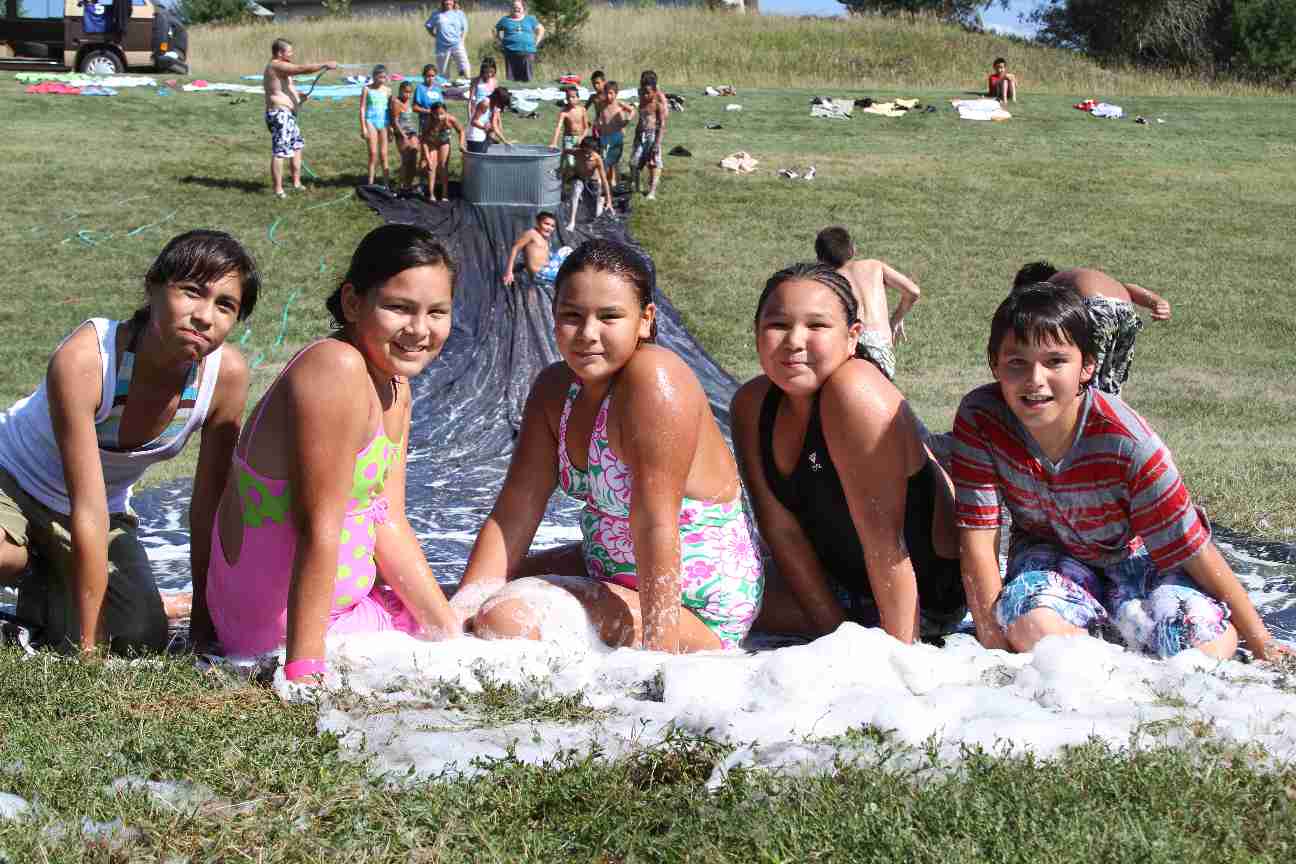 Outside my office, I heard squeals of delight. On a warm September day, I discovered that a couple of the homes had rolled a long plastic tarp onto the gentle slope between the picnic pavilion and the parking lot, and with soap and water had created a giant slip and slide. When I went outside to see the action for myself, a third grader came up and gave me a big soapy hug, and everyone laughed at the white suds on black clerical garb. Our kids and houseparents know how to have a good time.
The Giles Home (freshman boys) challenged the Carola Home (10th – 11th grade) to a basketball game for bragging rights on campus. Carola's height and experience  proved too much for the freshman, but they played hard until the end. Afterwards they invited me along to a pizza party, where they resolved to keep practicing and try again.