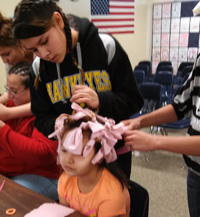 We invited our inter-city girls basketball players from the Chamberlain School (6-8 grade) to what we called a community hair shop.  The purpose of this time was to share our talents and to learn a hair style – braiding or rag tie curling – so that when our St. Joseph's students take part in a powwow or a dance event, they will have more people who can fix their hair the way they like it done.
We started with seven of our high school girls fixing the hair of our inter-city girls.  In return the, the inter-city girls fixed hair for St. Joseph's girls in grades one through five.  We also invited staff and their families to take part in this exciting event.
We had about 60 girls (maybe more!) take part in our hair shop.  Everyone had a grand time!