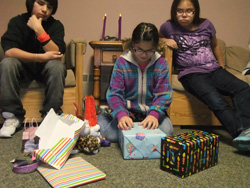 Greetings from the staff and girls of the William Home!
We have been very busy since our return from Christmas break.  We had our St. Joseph's Christmas party  the week after the kids came back.  Thank you so much to our donors who helped make the students' Christmas party possible!
Basketball season for the girls is over but that does not mean that things are not busy! The girls are now involved with tumbling and cheerleading weekly.  We had two girls with birthdays last week, so we hosted parties for them in the home. Each had some of their friends over for supper and cake.  We had a great time!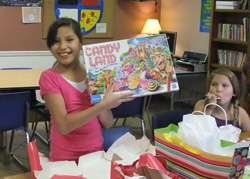 The spelling bee is this week and we're proud to say four of our girls will participate.
The William Home continues with their walking fitness program and have totaled 13,136 laps, which is just over 656 miles.  We are ahead of our pace to reach 15,200 laps by spring break!
Hope you all enjoy the updates from the William Home and we thank you for all that you do for the Lakota children at St. Joseph's Indian School!