On Friday, May 22 2015, 19 proud Lakota students graduated from eighth grade at St. Joseph's Indian School. Major Gifts Officer Brian gave an inspiring address to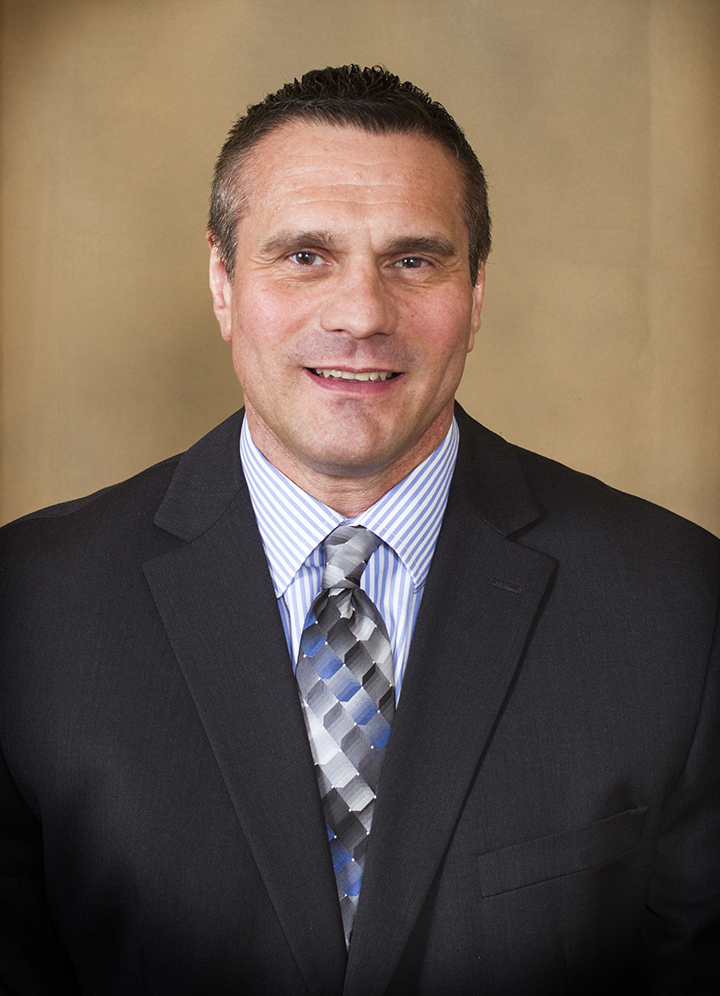 students, families and staff.
Parents – thank you for being here. Your presence and support is crucial and I know you must be very proud of your child as they are proud of you. We appreciate all the family members in attendance and the ones who were not able to make it. I commend and applaud you.
Distinguished guests, graduates, parents, family members and friends, St. Joseph's staff. Welcome to a special moment, for some special kids at a special place: St. Joseph Indian School. Words fall short when describing this wonderful organization. From the outstanding leadership of Mike Tyrell and administration to our Child Services Team, Development Office, Facilities, Akta Lakota Museum & Cultural Center and Rec Center staff, and our 60 nurturing houseparents, it is definitely a collaborative effort. St. Joseph's staff are the most professional, hardworking people I have ever had the privilege to work with. Each day they bring passion, commitment, dedication and – most importantly – unconditional love for your children. Staff, I commend and applaud you.
Sitting Bull was a man well ahead of his times when he most eloquently stated, "Let us put our minds together and see what life we can make for our children." So here we gather – together. Unified for the same purpose: these 19 young men and young ladies.
At this time I would like to take a moment and briefly talk about three ships and one destiny. I can assure you I am not talking about the Nina, Pinta and Santa Maria. The ships are named Citizenship, Mentorship and Leadership.
Let's take the first, Citizenship. Students, you may not know this, but you were born into dual citizenship. Citizens of the United States and citizens of your respective sovereign tribes. This puts you in a very select and unique class. Very few Americans have dual citizenship. This is a privilege. However, with twice the privileges come twice the responsibilities. In both your Native and non-native communities you must stay informed, respect other's rights, vote and volunteer. Be an active citizen.
Now for our second ship. Mentorship.
Whether you realize it or not, you are a mentor. Your siblings, peers and other young children are always watching you. Make the right choices, do the right thing. Set the standard high for others to follow. Always do your best in whatever you do; set goals and seek challenges; become a role model for those coming behind you; and always have God in your heart.
James Baldwin made a very true statement for all of us to learn from. He said "children have never been good at listening to their elders, but they have never failed to imitate them."
We all have the duty of mentorship.
Now, for our lead ship. Of course that would be leadership.
Leadership has many faces, many definitions and various styles. From my perspective, a leader needs to be a visionary who is passionate for his people and their dreams. The leader is the navigator, converting dreams into goals and goals into success.
Most importantly, be a servant leader. Serve the Creator with complete obedience to His will – not yours. Be a leader who is committed to promoting tribal interests over personal gain. Always represent traits becoming of Native Americans – strong, resilient and determined. Proud, yet humble. Never forget the sacrifices of your ancestors. The privileges you enjoy today began with the sacrifices of previous generations.
As we commemorate this next generation of Native Americans, let us not boast of yesterday's success, less we stumble in securing tomorrow's dreams and blessings.
Today, we celebrate the accomplishments of 19 of St. Joseph's best and brightest. A new generation, full of hope and poised to take on the challenges facing Indian Country. Future leaders who will personify integrity, ethics and self-determination. Class of 2015, you must be resilient and strong. You must have courage and lead. Most importantly, you must stand united and never forget, Generosity is the Heart of Native America.
The leader of my tribe, the Honorable Governor Bill Anoatubby conveys a powerful message – "A rising tide raises all ships." This, I believe, is true. Unfortunately for many in Indian Country, they have weathered the storms but high tide has yet to roll in. However, as each raindrop contributes to the depths of the oceans, each one of us has the ability to help raise that tide and roll it in.
One drop at a time.
One day at a time.
One child at a time.
There is an old Indian proverb that states, "The soul would have no rainbow if the eyes had no tears."
We as Native Americans have shed more than our share of tears. The time has come – I said the time has come for our tide to roll in and we receive our rainbow. The future is bright. Our children are ready. St. Joseph's is a blessing. And God is with us!
Let us remember that a rainbow symbolizes a covenant. A promise. God's promise. Today, we receive 19 of God's promises. 19 young rainbows. A pot of gold may not be waiting. However, something more valuable, more important awaits. Hope, opportunity, love and the ability to connect with God's destiny for your life. Creator has a special plan for each of you. He has supplied you with all the tools. It is up to you to navigate your journey. Listen, pray and depend on The Great Spirit. The road will not be completely red or white or yellow or purple or any other color. You will find the road is in itself a rainbow. This path will take you to the highest mountains and other times sink you below sea level, but you will prevail. Trust, have faith, love family, never give up and believe! Believe in yourself as everyone in this chapel believes in you!
As you walk out those doors, remember your duties as a citizen. Remember your duties as a mentor. Remember your calling as a Native American leader! Be proud of who you are and always proud of where you come from. You are our future!
Today, you are St. Joseph's Braves. Tomorrow you become warriors! Some of the greatest leaders in our history were Dakota and Lakota. Crazy Horse, Sitting Bull, Red Cloud, Black Elk, American Horse. The list goes on and on. You cannot fail! You will not fail! It is in your genes! It is in your spirit! It is in your heart! It is in your blood! Stand up and be proud! YOU ARE NAKOTA! YOU ARE DAKOTA! YOU ARE LAKOTA! You will succeed!!!
Perhaps one of you will follow in the footsteps of Crazy Horse, Sitting Bull or Red Cloud and be the next great leader of your people. Crazy Horse has always been – and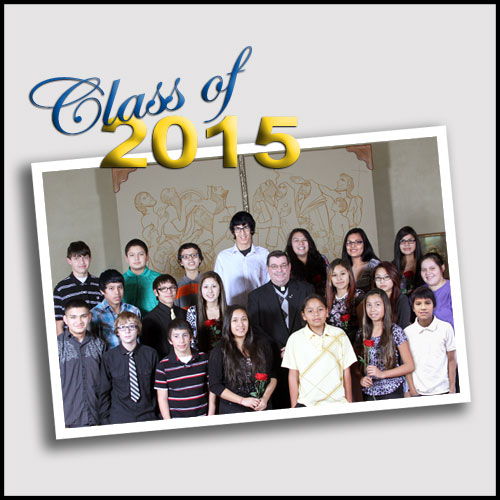 always be – my hero.
Now it is your turn to be someone's hero!
Students, look behind you. Go ahead look behind you.
You have already become our heroes!!
Congratulations class of 2015! Well Done!