One graduation down and one to go!
On Sunday, nine St. Joseph's students (out of a class of 61) took part in the Chamberlain High School graduation ceremony.  The armory was packed with graduates, family
and friends. It was an especially important day for Errol – he is the first St. Joseph's high school graduate to do so with honors. He is also a Regent Scholar and member of the National Honor Society. Congratulations Errol!
As the last graduate was leaving the stage after receiving his diploma, Chamberlain Principal Mr. Bertram, commented that
this was the largest number of graduates we've had from St. Joseph's Indian School to date.
This brought a very nice round of applause from those assembled.  It definitely brought a proud smile to the faces of all the St. Joseph's staff, families and supporters attendance.
Pilamaya – thank you – for helping these students reach this milestone!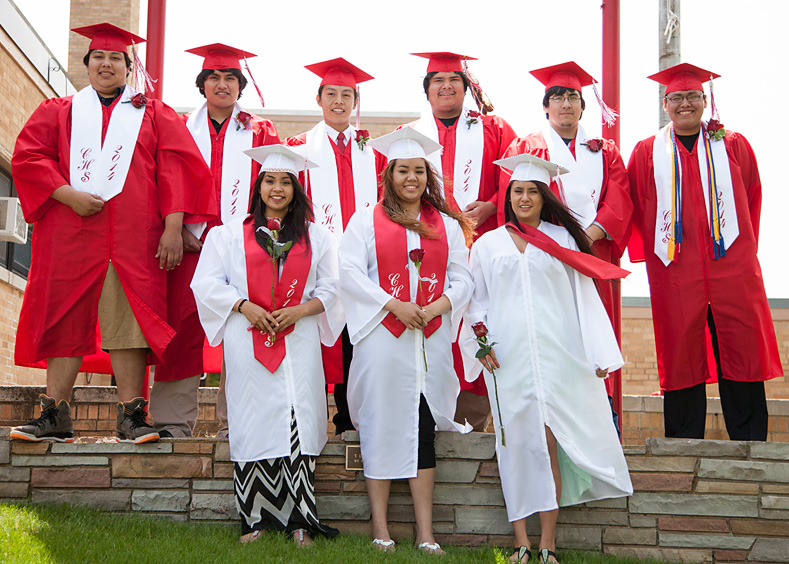 Chamberlain school is out for the year, but St. Joseph's students still have the remainder of this week.
Spring sports awards were given out yesterday. Archery and track participants were recognized for their accomplishments, houseparents were thanked for helping with ball games. T-ball coach Leonard spoke about a young lady who began the season not even knowing how to hold the bat – it was almost bigger than she was! But in the last game of the season, she smacked two home runs! It's wonderful to watch our Lakota students learn and grow throughout the year.
After the awards were handed out, it was on to the softball diamond for the annual eighth graders vs. staff softball game.  The rules are a bit different than a standard game – staff had to hit big 16" softballs, while students hit a normal-sized one and also had the benefit of getting five outs per inning. A good time was had by all and the game ended in a 20-20 tie.
Please keep our eighth grade students in your prayers as they receive their certificates on Friday.
We hope all of you have a very safe and relaxing Memorial Day weekend. As always, we are grateful for your generosity which enables us to offer the programs our Native American students and families need.
Fr. Anthony Kluckman, SCJ
Chaplain