So…the other day I was walking into our Student Coordinator office and noticed a stack of boxes sitting by the door. I hadn't really noticed the boxes for awhile and wondered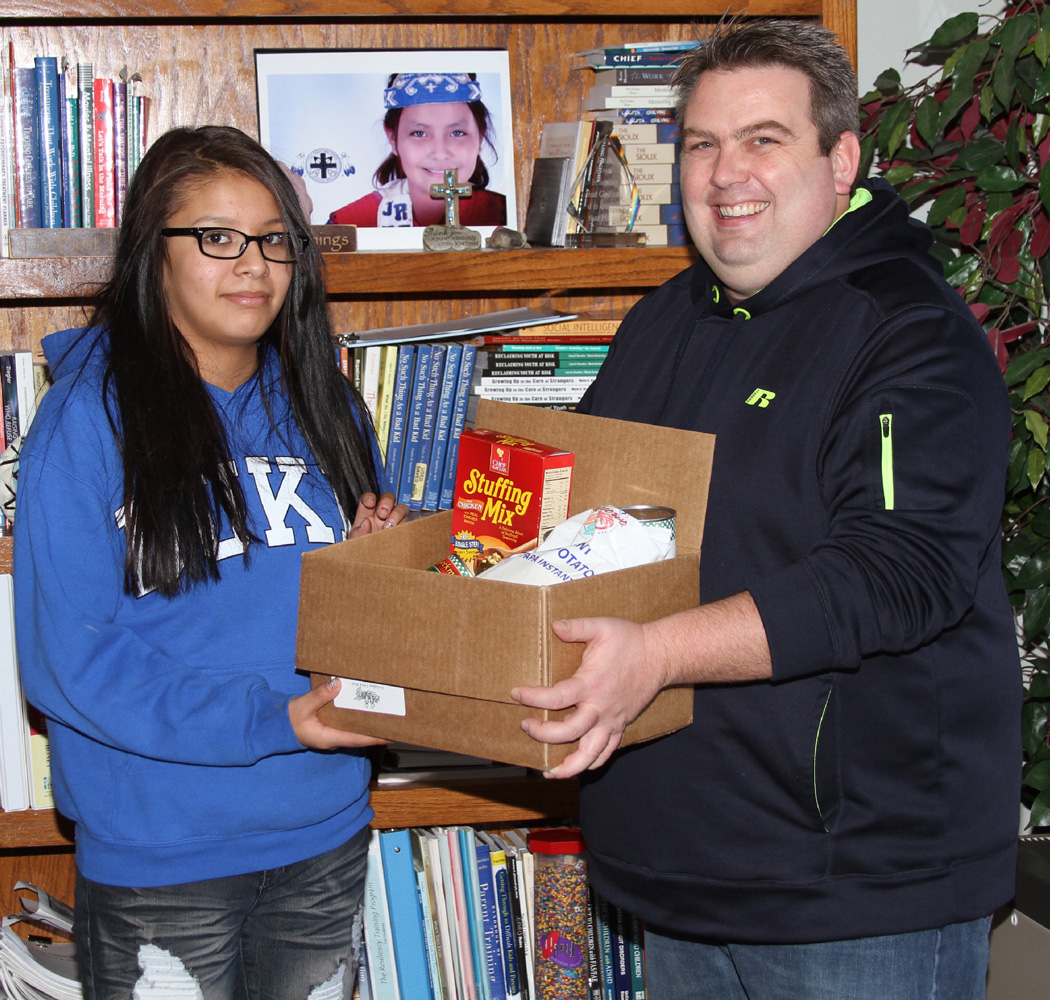 what they where and how long they had been in that spot…
Then it hit me!
The boxes contained the food from the annual food drive St. Joseph's holds in November. *forehead smack*
In the hustle and bustle of the school year, we never delivered them to the domestic violence shelter here in Chamberlain. Color me embarrassed – I was in charge of delivering!
I immediately began working with Jennie, the Student Coordinator, to come up with a plan to deliver the food. We picked four students to help load and unload the boxes. I called the shelter and set up a time to make the delivery. The day arrived came and I ended up with two extra students to help. And help they did!
The six students unloaded the boxes quickly.
The person on duty at the shelter worker was very grateful for the donation – they had several clients in the shelter at the time and supplies were running low.
My embarrassment of forgetting the food boxes abated. I realized maybe us (actually just me) forgetting the food for all that time in the office was part of the bigger plan…
Maybe, just maybe, things happen for a reason. Maybe sometimes we just need to flow with our surroundings and trust what's happening.
Or, maybe it was just coincidence that our twelve boxes of food came at the right time…
Whatever the case, it was the right time to role model and teach the students about generosity firsthand by giving back to our community, even if it didn't work out exactly like I first planned.
Chances for small lessons of generosity, independence, belonging and mastery are given to us every day at St. Joseph's Indian School. As staff and helpers, we need to remember to watch for these times and take full advantage of opportunity to teach our Native American students in the best way we can.
And today, I believe my "mistake" was part of the bigger plan to share this lesson of generosity with the six students who helped deliver those boxes.
As our school year winds down and the students get ready for summer break, I would like to thank our extended family for making these teachable moments possible for our students. Everyone shows support to our students to make this possible – we can't do this work without you! We are truly thankful and blessed by your generosity.
Happy summer!
Frank W.
Residential Coordinator