Dear Friends of St. Joseph's Indian School,
Catholic schools around the country are celebrating Catholic Schools' Week!  Some of the activities the Lakota students will be involved with include tours of St. Joseph's Development Office and being "teachers for a day" on Tuesday and Wednesday.  Thursday, students will wear their Catholic Schools' Week t-shirt and we'll have a campus-wide prayer service.  Academic games will be held on Friday afternoon prior to St. Joseph's very first induction ceremony into our chapter of the National Honor Society. Watch for a blog post on this!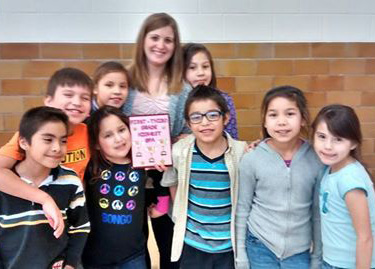 Last week, several of our students took part in an Acalympics competition in Pierre, South Dakota. Our students came in seventh out of 11 schools participating.  Our principal, Kathleen, feels the students are becoming more comfortable with the procedure and also recognize those areas of study they need to focus on. The competitions are not just about book knowledge, but awareness of general topics.  It seems some sports question tripped us up.  There will be another
competition in March in White River, South Dakota, so our team will be working hard to prepare!
We also awarded attendance and academic honors last week. We had more students than ever earn a spot on the B honor roll! We also have a traveling trophy for the class that has the highest Grade Point Average. They also get a pizza party for their efforts in the classroom.
Katie's second grade class won among the first to third grades with a 3.59 GPA.
Ron's fifth grade class took honors among the fourth to sixth grades with a 3.23 GPA.
Dave's seventh grade class captured the plaque for the seventh and eighth grade classes with a 3.34 GPA.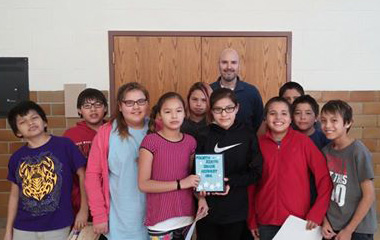 Over the weekend, Chamberlain high school presented the one act play, Shel-ling It Out by Shel Silverstein, the author of Where the Sidewalk Ends and The Giving Tree. He uses his poems to tell a story of a young girl facing a variety of 'what if' questions.  Several St. Joseph's students were in the cast or working behind the scenes helping with props, costumes or music.  Tomorrow, they will
perform in Pierre for the state-wide competition. Break a leg!
The two students, Robert and Jatonne, recently attended the donor luncheon held in San Francisco, California. They were very excited to meet so many friends of St. Joseph's and share what St. Joseph's means to them. They also enjoyed seeing the sites in the city by the bay. A big pilamaya – thank you – to those who made Robert and Jatonne feel so welcome out West.
If you would like to attend a luncheon, please call 1-800-584-9200 or visit us online at www.stjo.org/luncheon. The final two events for this
school year will be in Panama City, Florida, April 25 and 26 and New York City on June 7 and 8.
Have a great week; may God's blessings be with you and yours!
Fr. Anthony Kluckman, SCJ
Chaplain