The students attending St. Joseph's Indian School appreciate receiving gifts from our donors – especially during the Christmas season. This kindness makes each boy and girl feel extra special.
But, part of the holiday season is the practice of not only receiving, but giving. That's why St. Joseph's Christmas Store is something so many students look forward to. Within the store, our students can shop – not for themselves, but for their family members back home in their reservation communities.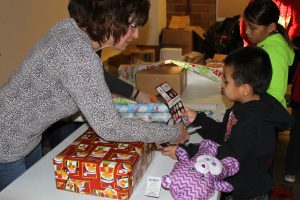 On Saturday, December 9, each student carefully chose items for a parent, grandparent or a sibling. To finish, St. Joseph's staff members assisted the students as they wrapped their gifts so they'll be ready to take home and be opened Christmas morning.
"After 20 years, I still love this day!" said Julie, a St. Joseph's staff member. "I believe my favorite part of the day is the individual conversations I have with students as I help wrap their gifts. I learn more about their families based upon the gifts the students select, and the excitement they share within these stories. For example, 'This is for my baby sister, she likes kitties.' Or, 'I picked this for my grandma. She needs a blanket for her chair at night.' Regardless of current situations, love for family shines on this day – and there's nothing more beautiful to see on the kids' faces!"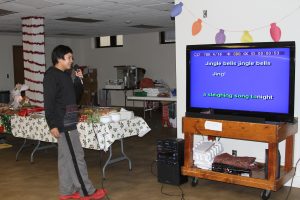 One of Santa's helpers was also there to pose with students for pictures. After all the shopping, wrapping and pictures with Santa, the participants had the opportunity to showcase their talents by singing their favorite Christmas carol with a karaoke machine. It was a very fun day.