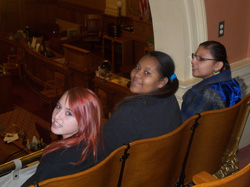 Last Friday, St. Joseph's eighth graders went on their cultural trip to Pierre, South Dakota. We left school about 8:10 A.M. and traveled west on the interstate to Vivian and proceeded north to Pierre.
Upon arrival in Pierre, we toured the State Capital Building. The students were impressed with the beauty and grandeur of the building, and all the old features. The aspect of the tour that held their attention the most was looking for the blue and heart shaped tiles. The Capital building has a tile floor; when it was installed, the workers were given a limited number of blue and heart-shaped tiles to place throughout the building as a mark of their own.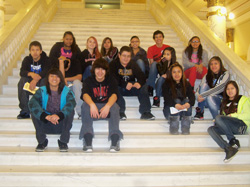 From there, we went to Pizza Ranch and enjoyed lunch. After lunch, the day brought us to the Cultural Museum. The museum exhibits items from the different eras of South Dakota's people. The students seemed to enjoy looking at how people lived in the past.
On the way home, we took the road that follows the east side of the Missouri River. They were all looking forward to going down the stretch of road with the bumps!   It was a fun, educational experience for the Lakota eighth graders to get to see some country, take in some government and experience the history of South Dakota's various cultures.