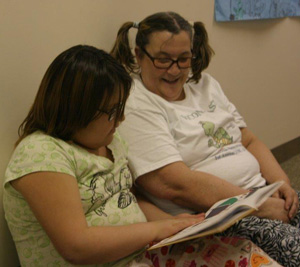 There is much testing going on at St. Joseph's at this time of year, especially in my area. Individual Education Plans are wrapping up for this year, but new students coming in need to be placed in the appropriate setting. I have been using Key Math to see where our holes are in Math and this has become a very useful tool! I learned something new this year! 🙂
Winter is teasing us right now. It will be nice outside one day and then it turns ugly cold! It is creating cabin fever! We do go outside with the Lakota boys and girls if it is above zero and the wind chill is above zero. Even though the kids might complain when they go out, they enjoy getting a breath of fresh air and running to keep warm.
Basketball is a hit here at our school – both boys and girls! Even our little ones are pretty good at basketball! They take on the bigger kids when they get the chance. It is nice to see the care the older students show the little ones. Lifting them up to make baskets, stealing the ball and giving it to a little one, pretending that the little ones stole it from them, and "trying" to block the shot!
Have I mentioned this time, how much I love it here at St. Joseph's? Well the basketball story is just one reason. There is a ton more reasons. Who can go to work in their pajamas, then sit in the hall and read Dr. Seuss with kids?
ME, that's who! We are reading "Cat in the HAT!"
The kids loved it! It was so much fun, especially when we started reading in unison!!! Imagine that! What a magical time it was! And then we got treats afterwards!!!
There are still many more reasons I love it here – stayed tuned!