Hello everyone from the Rec Center staff,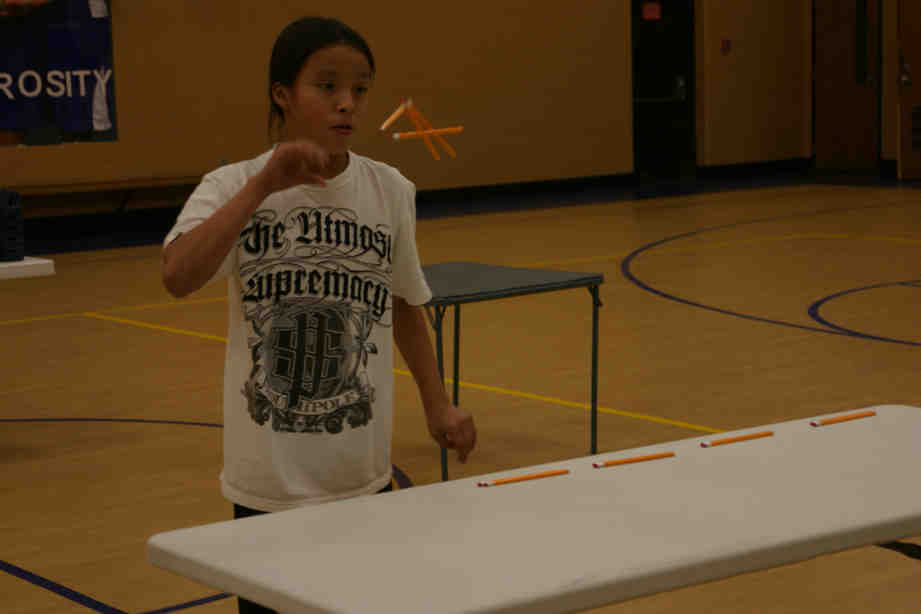 Hey, did you know that on Wednesday nights St. Joseph's Indian School has a night of activities for the homes called "Enrichment Night?" That's where we get two homes from each community, for two hours that night and either teach them a new game or revive an old game for fun. We work on teamwork and certain skills. We also have "Enrichment Swims" going on at the same time for different homes.
Most recently, at our 6:00 pm time slot, we had our 1st – 3rd grade homes (Raphael & Afra) for our Enrichment Night Activities. They played a game that some of you might know from TV, "Minute To Win It."  One game we played was call "Loner" which is when one person has to roll one marble at a time to knock down a pencil standing 15 feet  away in one minute!
Savannah did a good job in the "Bite Me" game and Trinity and Jarrett were excellent in their games as well. Even the houseparents were involved in some of the games as well. Thanks to Aleece, Leonard and Christine and Mike for all their help. We also played, "Stack Attack" and "Movin' On Up," which are plastic cup games.
The 7:15 pm time slot was with the 6th – 8th grade homes (Rooney & Fisher) who were involved as well last night. They were involved in a different night of activities. We called them "Tag Games." "Swatter Tag" was a big hit with Josh and Adrian and the game called "Dead Ant" was a smash with the boys as well. Jeremiah and William were really into the game "Frogger." These are games that build teamwork and are fun at the same time. Thanks to houseparents Tony and Roman for their help.
Next week for Enrichment activities at 6:00pm, we will have the 4th and 5th grade homes (Cyr and Perky) and at 7:15pm we will have the 6th – 8th grade girl homes (Mathias & Stevens).
Thank you,
Your friends in the Rec Center