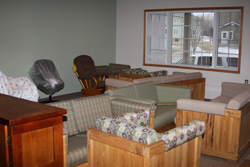 Our facilities crew is hard at work finishing our remodel projects for the Lakota children at St. Joseph's Indian School! Here's an update:
The Summerlee Home is finished other than some minor finishing touches, like hanging bulletin boards and other small jobs. Houseparents are beginning to move some things into the home.  The Summerlee girls are planning on spending their first night in their newly renovated home on February 1.
Now that the Summerlee home is complete, we are able to put more staff on the William Home renovation.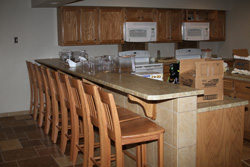 We just finished taping the sheetrock and will begin the texturing process.  As soon as that's done, we can start painting. We have also contacted the ceiling installer and he is scheduled to start installing our ceiling grid the first part of February.  The kitchen and bathroom cabinets are under construction in the carpenter's shop. We hope to have this home completed the first part of April.
The thrift store's new location is moving along nicely with a completion date in the first part of March.  We have just finished painting the retail section of the store and have moved to the back work and storage areas.  Contractors are in the process of hanging door frames and the ceiling grid will be placed next week.  Once we have our ceiling grids installed, the electricians will be able to start hanging light fixtures.  When the lighting and HVAC processes are complete, we will begin installing carpet and inlay flooring for the retail area, changing rooms, bathrooms, break room, and offices.