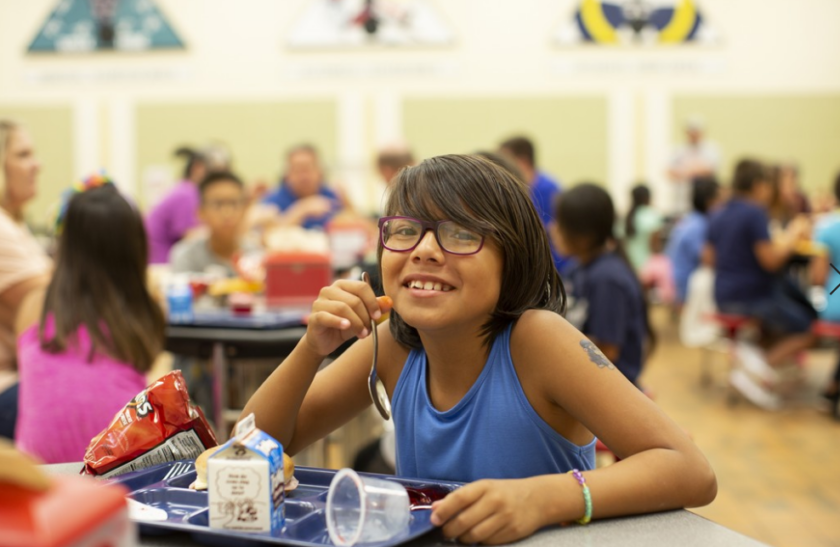 When you make spaghetti for your family, what does it look like? You likely grab a one-pound box of noodles, a pound or so of meat, a jar of sauce and maybe some other fixings — unless you make the sauce yourself. (You know who you are and we applaud you.)
Easy-peasy, and dinner's on the table, right?
Well, when we cook for our family of kiddos at St. Joseph's Indian School, it looks a wee bit different. That one-pound box of noodles turns into 10 pounds. One pound of meat turns into approximately 35 pounds. One jar of low sodium sauce turns into 10.
That's right, because we have approximately 200 hungry mouths to feed.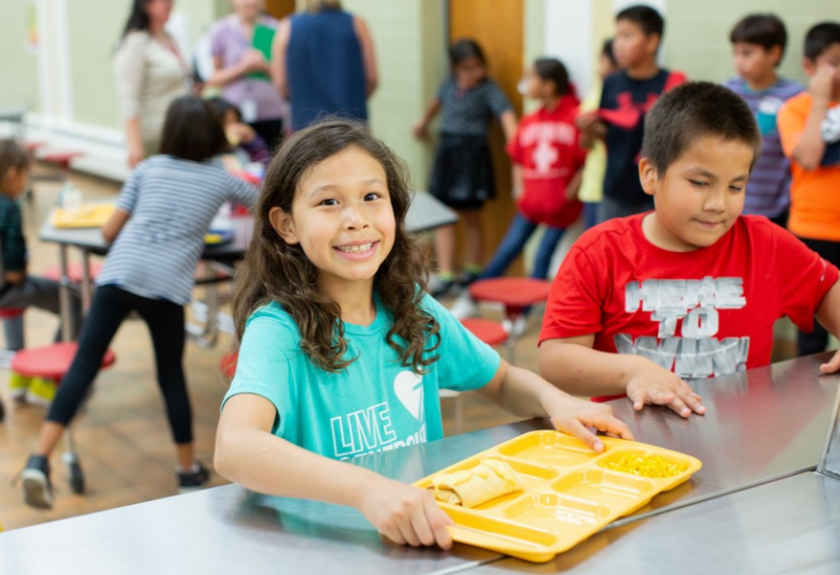 And that's just one meal. Take that process and do it two more times, and multiply that by seven, because making sure kids are fed three square meals a day, every day, is important.
The Invisible Factors of Food
There's a lot that goes into making the Food Services Department at St. Joseph's run like a well-oiled machine, but the staff have done just that. They make it look easy — like it isn't a big job.
But "big" probably doesn't best describe it. Important is a better word. Essential is another.
You see, not every student who comes to live and learn at St. Joseph's is accustomed to eating three meals a day. In fact, one in four Native Americans experiences food insecurity, compared to 1 in 8 Americans overall. There are multiple factors at play for why this happens. The most significant is poverty, and the fact that food and jobs are commonly scarce in reservation communities.
"Kids come back from break and they're hungry," said Mike, Food Services coordinator. "After breaks like in the summer or winter, where they've been gone for a lot longer, they're even hungrier."
Eating in the Homes
St. Joseph's Food Services prepares approximately 36,000 school lunches for students and others on campus during a typical calendar year. But, the work doesn't stop there.
There's an entire small-scale grocery store within the dining hall for houseparents to shop for the food they'll use in their homes. There are cooler sections with locally sourced produce and meats; aisles of canned and boxed items such as cereals and sauces; a section for breads, rolls and buns; and rows of condiments and spices … everything you can imagine houseparents might need to cook a hearty, healthy meal. Of course, it would be remiss if ice cream wasn't mentioned — we've got that, too.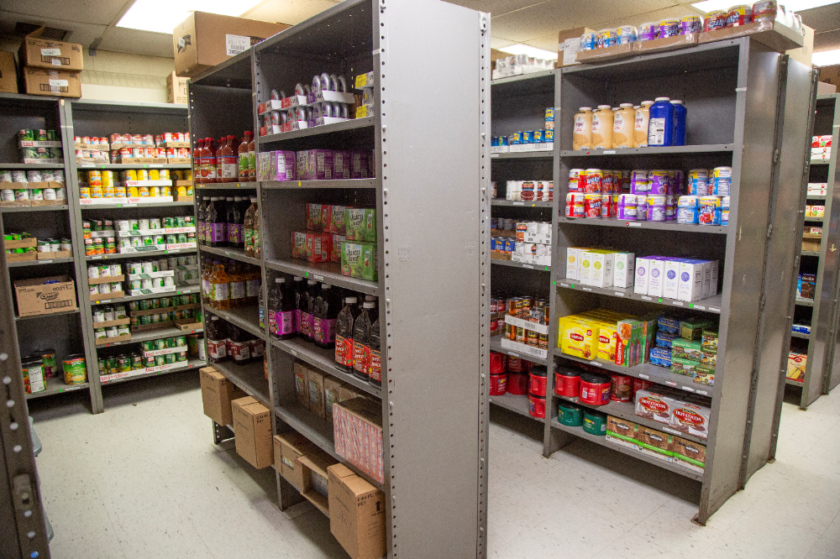 In a "normal" year, houseparents would come to the campus grocery store and shop the aisles. Because of the COVID-19 pandemic, temporary changes are in place and orders are now placed online. Food Services employees then deliver the groceries to each of our 20 homes.
COVID-19 has made getting certain items difficult, but Food Services staff do their best to provide the healthiest versions of products possible — like low sodium and reduced fat options. The USDA School Lunch guidelines for nutrition are also followed.
Mike says some of the students' favorite meals are hamburgers, hot dogs and the fresh fruits and veggies. But one meal conquers all …
"Pizza," said Mike. "All of our kids love pizza — and what kid doesn't?"
Feeding Others Far Away
Providing food doesn't stop at the campus entrance. St. Joseph's efforts stretch to South Dakota reservations and communities all across the state — hundreds of miles in each direction.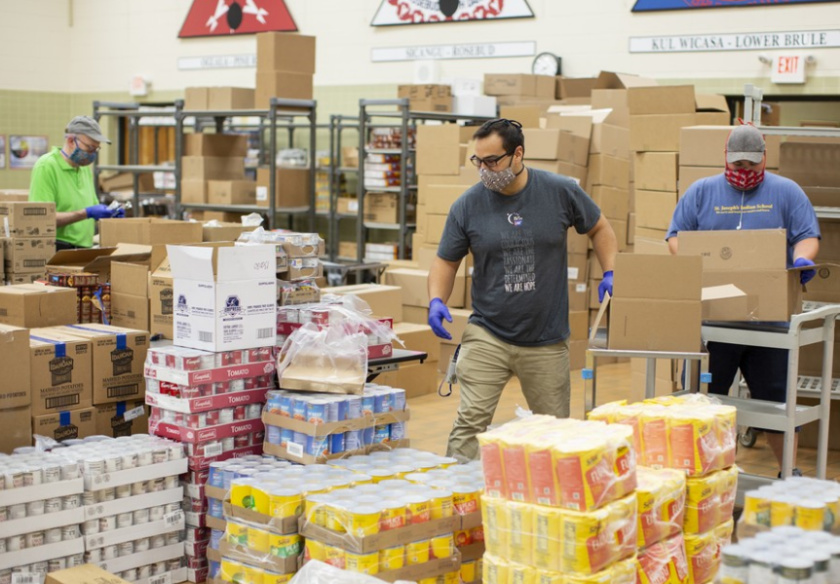 Last year, Mike said St. Joseph's provided nearly triple the amount of food boxes than in previous years to alumni and students' families in reservation communities. Those communities endured several mandated shutdowns, which enhanced the current obstacle of food insecurity.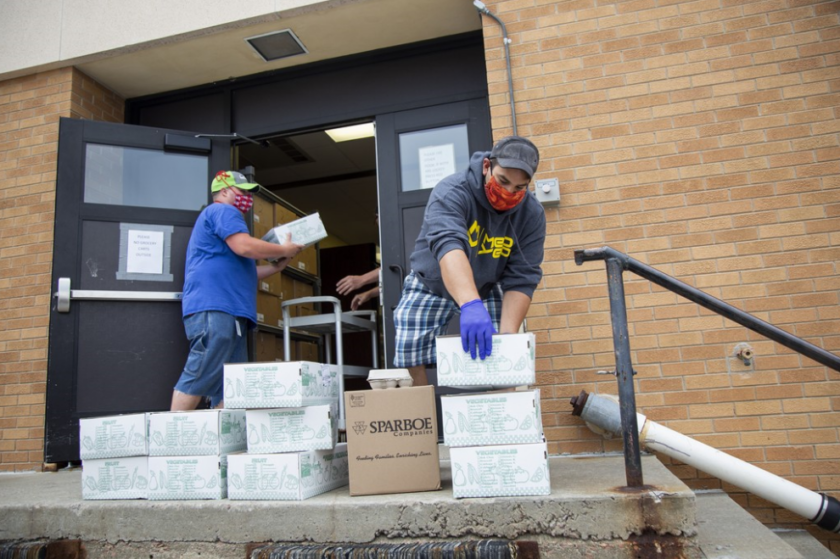 Each food box St. Joseph's deliveries is filled with grains, peanut butter, a meat/protein, bread, eggs, fruits and vegetables, and other items that together value approximately $50 or more.
Attention to detail is crucial. For instance, canned items are mostly pull-tab so a can opener isn't required.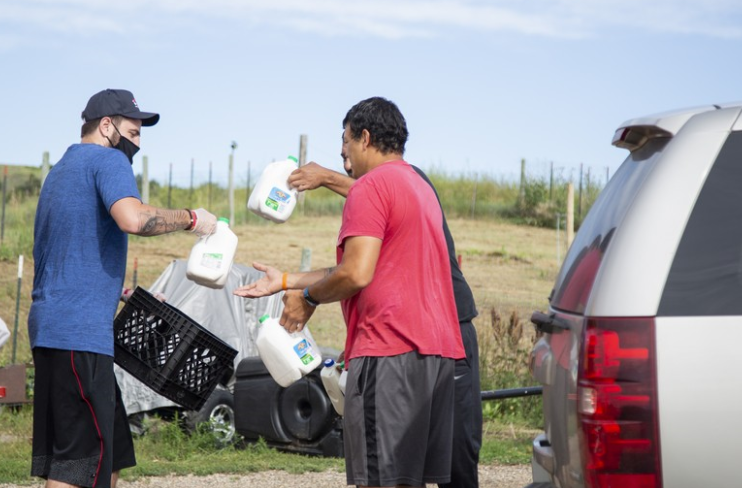 "Sometimes it is hard for others to envision, but not everyone has a can opener," said Mike. "We have to be mindful about the little things. It wouldn't do anyone any good to get food they couldn't open."
The Extras St. Joseph's Provides
So, along with serving school lunches, providing and delivering groceries to the homes, packing food boxes, stocking the fruit and veggie snack coolers around campus, and the planning and ordering time that goes into it — the Food Services staff have their hands full. But the work doesn't stop there. They also cook and serve during events, such as the annual powwow and any other large occasion.
The key component that makes any of this possible: you. You make this blessed work possible.
Philámayaye — thank you — to supporters for caring for Native Americans at St. Joseph's, and afar.