Michele and Jim thought they were coming to Chamberlain, SD, in the summer of 2021 purely as a way to enjoy a road trip away from their Iowa home. They were in search of relaxation and connection with nature, which they found, but they also found something else — something else with which they would soon form a connection …
St. Joseph's Indian School.
They were staying in a quaint Airbnb hosted by Maija, a St. Joseph's employee who enjoys hosting visitors in her free time apart from her work at St. Joseph's. A fluid conversationalist, Maija likes talking to her guests and making them feel at home. Because Maija displays some items from St. Joseph's within her cabin, more often than not, the topic of St. Joseph's comes up. She tells visitors about our students, programs, services and all the reasons why our campus is such a special place.
Hearing Maija talk about St. Joseph's resonated with Michele and Jim. So much so, that it prompted Michele with an idea. An idea she couldn't wait to share with her mother, Flo.
"In conversation with Maija, she talked about how some of the children arrive and don't have very much to call their own," said Michele. "I thought, how special would it be to give some of the children a quilt — something to cuddle up with and provide comfort to them."
The one obstacle to that plan: Michele didn't know how to quilt. Neither did her mother. But, together the pair set out to learn as a means to bless the children, while also spending some precious time together.
"We didn't know how to quilt so this was a huge, huge learning experience," said Michele. "I have sewed since I was very young but we both chose to learn how to quilt to do this. Just for this."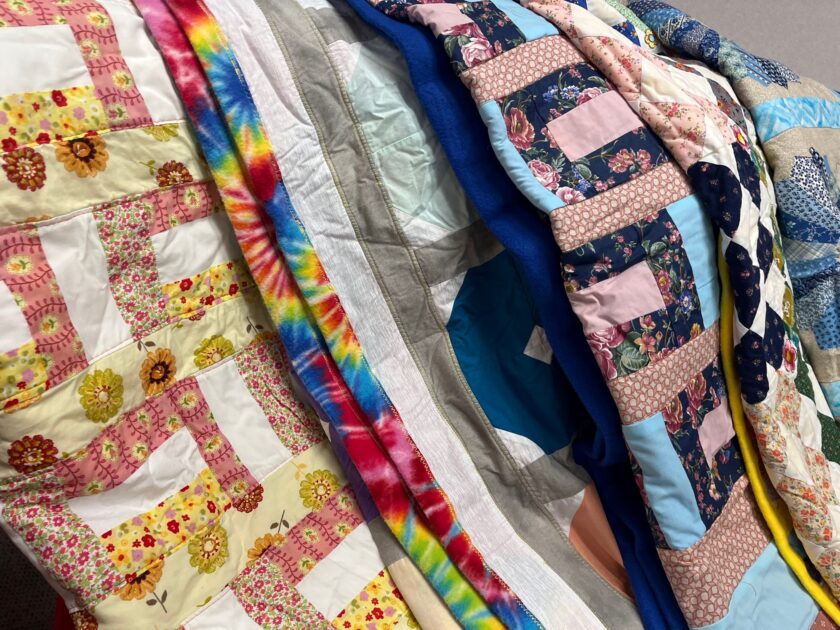 The following January, Michele and Flo grabbed their materials and tools and began to sew. Their beginner skills meant they started off slowly, but as time trickled on their skills improved. The steps became simpler, more automatic. The more they sewed, the better they became and the closer they became as mother and daughter, as well.
The quilting duo finished about one quilt a month. By the time Michele and Jim made their return visit to Chamberlain for the Fourth of July holiday in 2022, they had seven quilts to gift to St. Joseph's — one of which Michele had only just finished the night before arriving!
Each quilt is unique with varying colors and patterns sure to fit a student who is just as unique.
"We used leftover quilt blocks we got from others for most of them, which was great, but on one of them, I chose to add little flowers on it. Then, I was looking at the border and decided to use triangles rather than squares," said Michele. "There are probably 113 or so triangles on that one."
It was time-consuming work, but worth it in order to make the quilts special for the children.
"We wanted them to have something that was specifically theirs," said Michele. "It's not a blanket hand-me-down. They're brand new."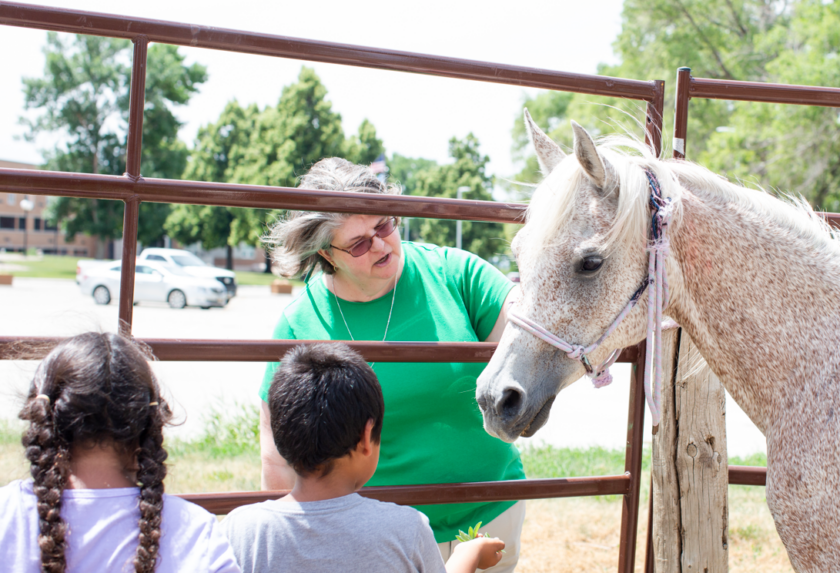 While on campus to drop-off these precious gifts, Maija took Michele and Jim on a tour of campus. They were also able to meet a few students who were staying in our Summer Home.
Maija said the children were in awe at the generosity of the gift.
"While we were over by the horses, I was talking to some of the little kids and I told them about the quilts," said Maija. "One of the little boys was just so in awe and said, 'They made them for us?' and I said, 'Yes, isn't that amazing?'"
Amazing is one word. Generous is another. Thankful is what we feel.
Along with the quilts, Michele placed a card for each student who would receive one. Inside she wrote,
This quilt was made for you. My mom, Flo, is 74 years old and I am 52 years old. We wanted to make quilts for special people, but we had to learn how to quilt first! Never stop learning! Flo says, "As you wrap this quilt around you, imagine Jesus' arms holding you tight." I say, "You are enough, just as you are."
Blessings on your journey,
Michele
Philámayaye — thank you — Michele and Flo for your kindness and friendship. And thank you to Jim, who jokingly said although he didn't help with the quilting, he did "take care of the cats" so Michele could take on the quilting challenge.
If you would enjoy giving a gift to the children at St. Joseph's Indian School, there are many ways to do so. Visit our Ways to Give page and see if anything resonates with you. We are grateful for your wačháŋtognaka — generosity!
Learn more about St. Joseph's Indian School at www.stjo.org.