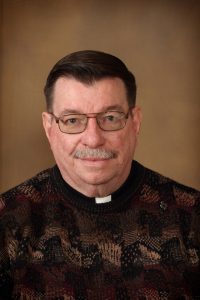 Good day from St. Joseph's Indian School.
When walking out of my office the other day, I was almost trampled by a number of young ladies and their mentors who were running, walking, skipping and hopping around Wisdom Circle on central campus!
The 4th and 5th grade girls are currently taking part in Girls on the Run, a 10-week interactive program that strives to educate and prepare girls for a lifetime of self-respect and healthy living.  The running component of the program is used to challenge the girls to reach a goal.  The objective is to keep girls out of the 'Girl Box'—a place where they are valued more for their outward appearance than their character inside.
The program strives to focus on giving girls the tools to develop a healthy self-image and discover a life free of the 'girl box' where they can say, "I belong just the way I am."
The program offers a three-part character development curriculum:
Getting to know yourself—values, goals, respect, healthy physical and emotional habits and positive behaviors,
Being part of a team—cooperation, listening skills, gossiping, bullying and standing up for yourself, and
Being part of a community—media influence and peer pressure so that they can discern how to make a positive impact in the local community by designing and completing a project to benefit an individual or group in the local community.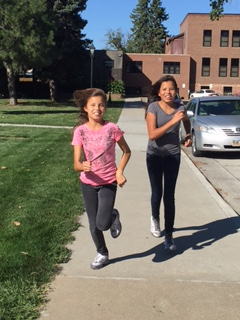 The program will end with a non-competitive 5K run/walk in Sioux Falls mid-November which will give the participants a chance to shine and a sense of accomplishment.  We wish them all well.
Another 'unique' visitor has come to spend some time on campus this year!
You may have heard of 'flat Stanley', a cutout that travels with an individual or group, giving those following his adventures an idea of what is going on in the world. As you can see in the picture, 'flat Francis' has come to visit the Afra Home girls.
This program is the brain child of our Director of Mission Integration, Clare, and Pastoral Care Associate and Religion Teacher, Joe, who had recently read a booklet of questions young people around the world have sent in to Pope Francis.
Clare and Joe thought it would be nice to have a 'flat Francis' come to campus and give each Home a chance to have him visit for a week. After each visit with the Home, the Home will compile their own lists of questions to send to Pope Francis.
The Afra girls were the first to have him visit. They included 'flat Francis' in their daily activities, even having him stand at the dining room table while they prayed and ate their meals! He even 'watched' their dance practice for the upcoming powwow on September 17—so we'll know who gets the credit if the girls win some prize money.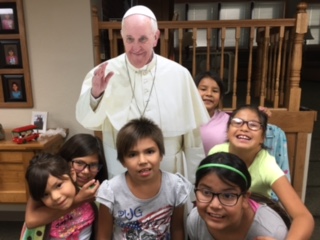 Keeping with his busy schedule, he made sure to 'greet' students as they arrived at school one morning and even spent the whole day in a 1st grade classroom with Miss Abby and her students!
As 'flat Francis' continues to move around campus, we'll try to keep you up-to-date on what he is up to.
The students enjoy a variety of activities over the Labor Day Weekend.
Many were 'checked out' and spent the long weekend with family and friends.
Over the weekend, some of St. Joseph's high school students attended the 19th Annual Lifelight Festival in the Sioux Falls area.  Lifelight promotes itself as the nation's largest free Christian music festival and draws thousands of visitors during their festivals that take place all over the United States and overseas.
Besides music, there are climbing walls, inflatables, an art gallery, food and merchandise vendors and even a skateboard park for guests to enjoy.
Several thousand festival attendees camp out over the weekend and, at times, the number attending is more than the population of many smaller South Dakota towns!
Students from the younger Homes had the chance to attend the State Fair in Huron, South Dakota and enjoy all the activities there.  It seemed like the various fair rides were the most popular.
On Labor Day itself there was no school, allowing our students to attend a screening of the movie Ghostbusters at Chamberlain's local theater.
The main area of focus now is St. Joseph's 40th Annual powwow! Activities start on Thursday, September 15, and continue until the powwow begins on September 17. If you would like some additional information on the event, visit stjo.org/powwow or call us at 1-800-584-9200.
Ifyou are able to attend, you will be able to register via phone or the stjo.org/powwow link. We hope you'll be able to come.
If not, please pray that we have good weather and a great time. The powwow is definitely one of the biggest highlights of our year!
Have a great week.  May God continue to bless you and your family and friends.
Fr. Anthony Kluckman, SCJ
Chaplain