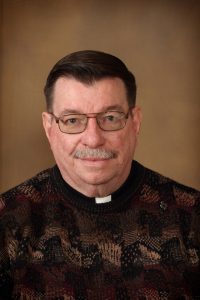 Greetings from St. Joseph's Indian School!
You may be aware our high school senior students are in a new program to help get them ready for college. They have restructured living arrangements that are similar to what they'll find in the dorms.
Our Houseparents are working to help them develop a sense of independence so they'll be able to take care of their own cooking, shopping, budgeting and employment after graduation. Recently, the high school girls in Hogebach Home got busy canning tomatoes!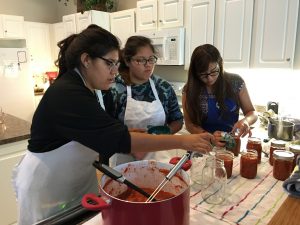 Last weekend, the girls decided it would be a fun activity to learn. They got the hang of washing the tomatoes, blanching them so as to be able to remove the skin, and the value of an apron as tomato juice was all over the place. They discussed sterilizing jars, the different width of jar mouths and the fact that sealing lids needed to be pretreated to ensure a good seal. They measured, mixed and taste-tested salsa to make sure it was good.
As they progressed filling the jars, they discussed the importance of hot jars for hot liquids and how full to fill the jars and why it was important to wipe clean the jars' necks so as to ensure a good seal.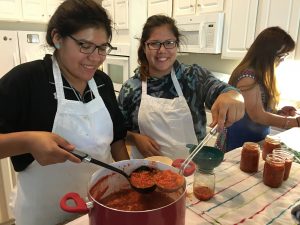 Proud of their success, they decided to take some home to show off to family and friends and also send a Care Box with chips and homemade salsa to a recent graduate.
They feel they'll have enough to last through the winter since they were able to make 10 quarts and 7 pints. They plan to continue canning plain tomatoes to be used in home cooking throughout the year.
In addition to canning, the girls and their houseparents also discussed the value of having a garden which could provide a lot of food for a family to use throughout the winter.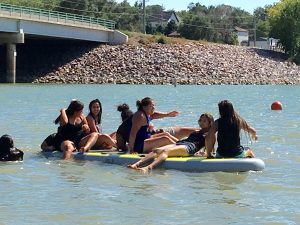 After enjoying the chance to learn and new skill and realize they were able to provide for future meals, the Hogebach girls were treated to a swim party and picnic at American Creek. They had fun on the water and enjoyed a meal featuring kabobs provided by Maija, one of our high school staff.
The Sheehy Home recently sponsored a BBQ meal for the Chamberlain High football team the evening before their first game.
About 30 young men- along with their coaches- descended upon Sheehy Home. Mike, one of the Sheehy houseparents, said everyone came hungry and had a good time.
This supper is a tradition St. Joseph's has offered for several years to help the team get to know each other better and show St. Joseph's support for an athletic program our students are getting involved in. We have four or five young men on the team this year.
Since the 8th graders, who are now freshman, had an undefeated season last year, the coach is giving a lot of the younger players a chance to play, which will help in the years to come. The BBQ dinner paid off as Chamberlain ran away with the game, 70-0. That's right… 70-0!
Crow Creek, a local reservation public school, had some good players but were overmatched by not having a lot of subs.
The Cubs have some tough teams on the schedule, so the shoe may be on the other foot in the not too distant future. We look forward to watching them play again!
As you may know, St. Joseph's is building a new two story facility which will house an infirmary on the bottom floor and the offices of our Family Service Counselors who meet with their designated students each week on the second.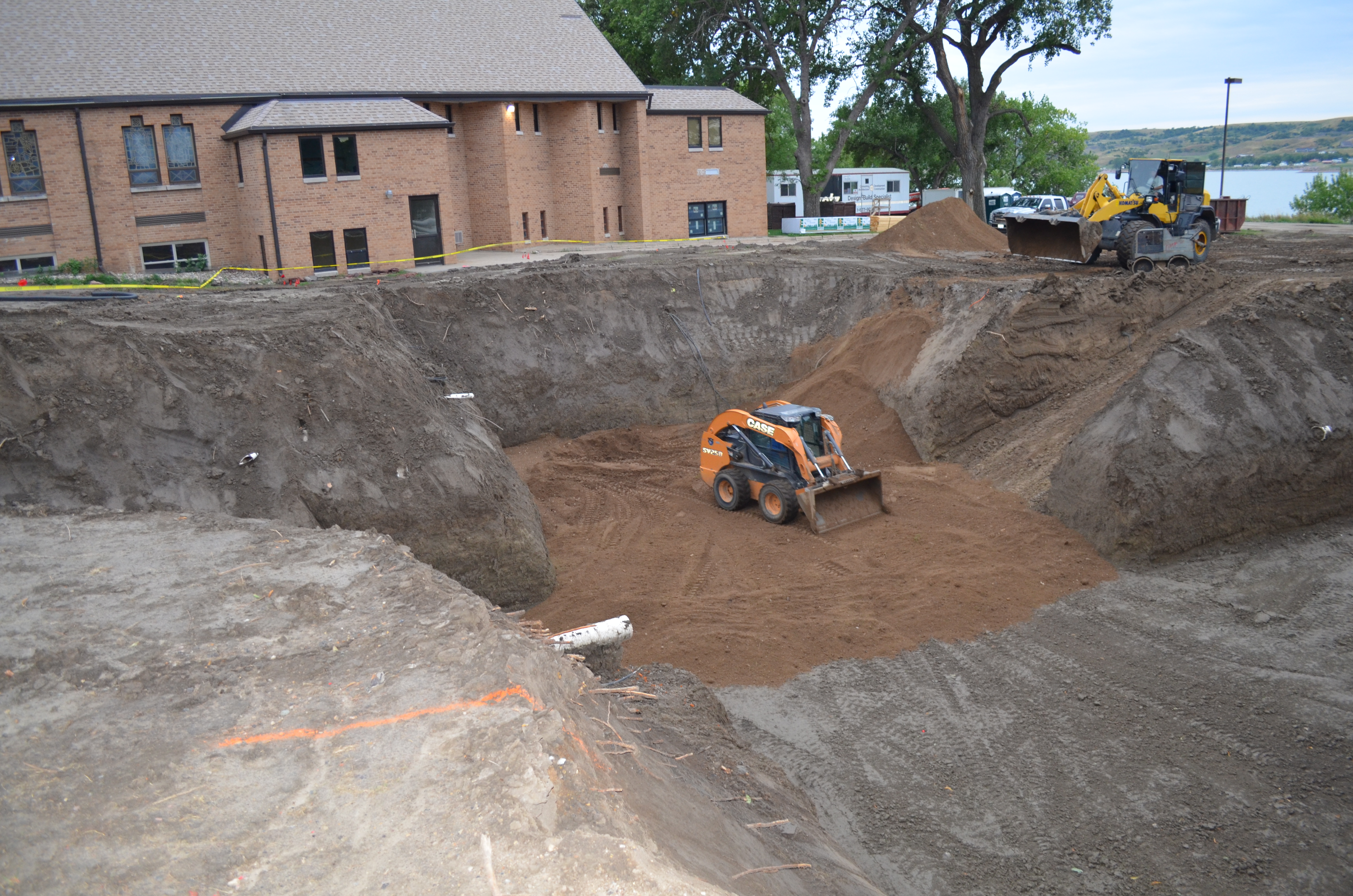 The building will be attached to the current school wing. The photo shows how deep they've gone to put in a basement and pipe lines for various wires to ensure the building will be habitable.
We'll be blessing the ground for the new facility on the morning of our up-coming powwow. We've had some fun watching the progress, even though our power has been accidentally cut off four times!
A sad note now. You probably have heard of the two religious Sisters who were brutally killed in Mississippi recently. Sr. Paula Murill, SCN and Sr. Margaret Held, OSF had served in a ministry of the Priests of the Sacred Heart, who also sponsor St. Joseph's, in Holly Springs, Mississippi.
The Sisters served as nurses with Sacred Heart Southern Missions out of Walls, Mississippi and helped provide in-home health care. After becoming nurse practitioners, they moved on to serve at a clinic in Mound Bayou, Mississippi and then on to Durant, Mississippi to work with the poor at a clinic there.
We ask you keep them in your prayers as well as their religious communities and their families as we all struggle to deal with this sudden and tragic loss.
Hope you all have a safe and enjoyable Labor Day Weekend.
Sincerely,
Fr. Anthony Kluckman, SCJ
Chaplain