After a morning filled with meetings, I looked back over the week and realized that with everything else going on, I hadn't once visited the  youngsters classrooms. When I did, the first sight I saw Scott, our PE teacher walking the hall with a baseball bat over his shoulder. My first thought was of the movie Lean On Me where the principal patrolled the halls to cut down violence. But Scott's bat was plastic, and a sign the whiffle ball season is upon us. He was meeting the 4th graders to walk them to the gym so they could play ball. I watched for a bit, then batted myself once (a single) before resuming my school tour.  
I stopped by the Dean's office to see if many kids were in trouble, but there were no serious discipline issues for the day. Mike, one of our houseparents, was subbing for the Dean today, and working on some of our Affiliated Programs like our Soup Label Project that he also oversees. We have turned in 465,000 labels this year, which has meant earning things like printer, lap top computer, digital camera for a home and many more. Because so many people help with small, regular donations, it all adds up together to make great things possible.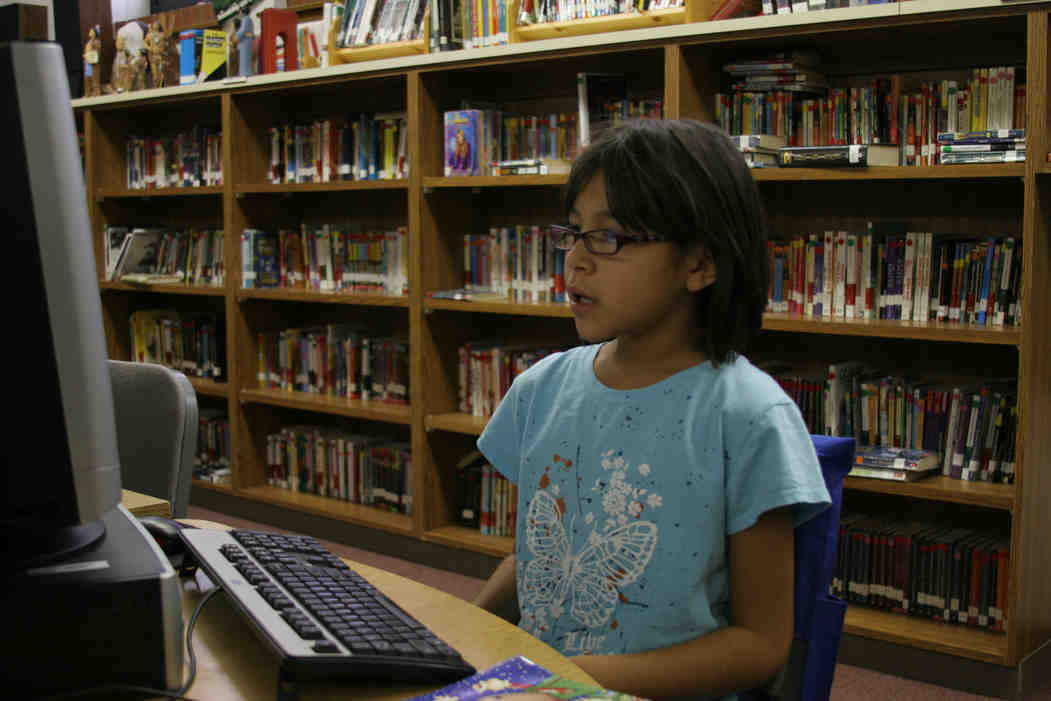 The 7th graders were in the computer lab, working on a program called, "Grammar Gorillas". They were being quizzed on distinguishing nouns from other parts of speech in the sentence.  The other section of 7th graders were enjoying their block of library time. Many were reading, and a few were taking computer quizzes on books they had just finished. A few with free time were working on a 1,000 piece puzzle of the United States. We talked about places we've been. Dawson pointed to the 5 states he has been in so far. Many of our students have limited travel opportunities and experiences. The younger kids hear tales of travels brought back by 7th-12th graders about their travels to donor appreciation luncheons, and hope someday themselves to get the opportunity.
After school was a frenzy of student activity. Several students ran by me, their first track workout of the season. Others played football in Fisher Field and a few were shooting baskets and dreaming of a final four appearance. At the Rec Center the 1st – 3rd graders were taking part in the first t-ball game of the season, moved indoors because our brief taste of spring has turned to wintry weather again. 4th and 5th grade boys were doing a cardiovascular video workout. And our mini buses shuttled 4th-6th grade girls to the two-week gymnastics practice that Chamberlain High School is putting on to get younger students interested in that sport.
I ate supper with the Pinger Home (6th-8th grade girls). The gymnasts were excited about their flips around uneven parallel bars and learning some floor exercises. The runners complained of sore calves as they try to get into shape. Other girls talked of school and classes, or life back at their "home home". The 7th graders are preparing for a week-long cultural trip as soon as school gets out and the 8th graders excitedly recalled their adventures at Bear Butte, Devils Tower and the Little Bighorn Battlefield.