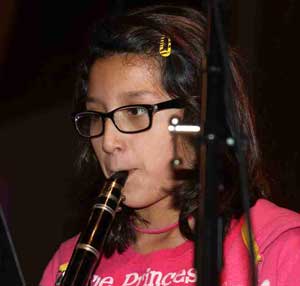 Our Development office took a break from the rush of mail pouring in to socialize with one another over a potluck Christmas party. People are such good cooks, and outdid themselves with the variety of holiday goodies. If that wasn't enough, most of the door prizes were also food related!

This afternoon, Our Lady of the Sioux Chapel rang out with a variety of holiday music during our students' Christmas Concert . Groups of students led us in many of the traditional hymns like Joy to the World and O Come All Ye Faithful.

We also have 19 students are studying instrumental music for the first time – drum, flute, guitar, piano and clarinet.

I remember how nervous I was at my first piano recital in grade school.
I felt sympathy and excitement for the kids as they performed very basic and simple renditions of Jingle Bells and Good King Wenceslas before the whole audience. But, despite their nervousness, every effort was met with hearty cheers and clapping.

I hope most of the children get the music bug and keep it up, for music adds so much to our lives.

Tonight our grade school boys who are learning to wrestle had an opportunity tonight to show off their practice and training in matches against one another.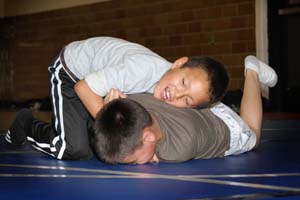 As a kid, I was a basketball player, who only wrestled in Phys. Ed. Class. I was one of the smallest seventh graders in our middle school, and the only other boy my size was our local wrestling champion. Paired up against him my chances were slim and none. Personally, I can't say I enjoyed wrestling, but I have enjoyed watching the intense competition.

I compliment the coaches for pairing off the kids in very even matches. There were very few pins or lopsided scores, but lots of energetic struggles that played out until time ran out. The bleachers hosted a lively crowd, and some of the Afra Home girls (1st – 3rd grade) even led impromptu cheers on the sidelines.

Tyler, our custodian, was a wrestler through High School and lent his services as referee. The 2-2-1 minute rounds passed by like lightning. One match was scored 21-20 with constant lead changes until a reversal at the end.

The most entertaining match of the night was saved until last when our two "heavyweights" battled through four overtime periods before a winner was decided! I did notice a few of the boys teary eyed about losing. Learning to cope with disappointment and still struggle to succeed is an important life lesson. Win or lose, all of them had the resolve to keep learning and practicing, and hit the mats again!