Hello! My name is Patrick and I'm the Academic Advisor at the High School Learning Center at St. Joseph's Indian School. Recently I had the privilege of coaching four super students – Angela, Lily, R.J. and Trevor – while they competed in the Lakota Nation Invitational (LNI) Knowledge Bowl with 14 other high school teams from around the state of South Dakota.
Our team was awesome and can be really proud of themselves and their commitment to preparing for the competition. Simply participating was a tremendous learning experience for all.
First, let me explain the format: Two teams face side by side with the moderator on the right and judges table on the left. The moderator asks a toss-up question from general educational topics such as science, language arts, mathematics, social studies, Native American history and current events. The toss-up questions appear on the large screen in front of the room while the moderator reads them. The competitors have just 5 seconds to buzz in with the answer. If the answer is correct, that team earns two points with a chance to earn one more point by answering a bonus question. If the team misses the toss-up question then the other team has an opportunity to answer. There are two halves, consisting of ten minutes each.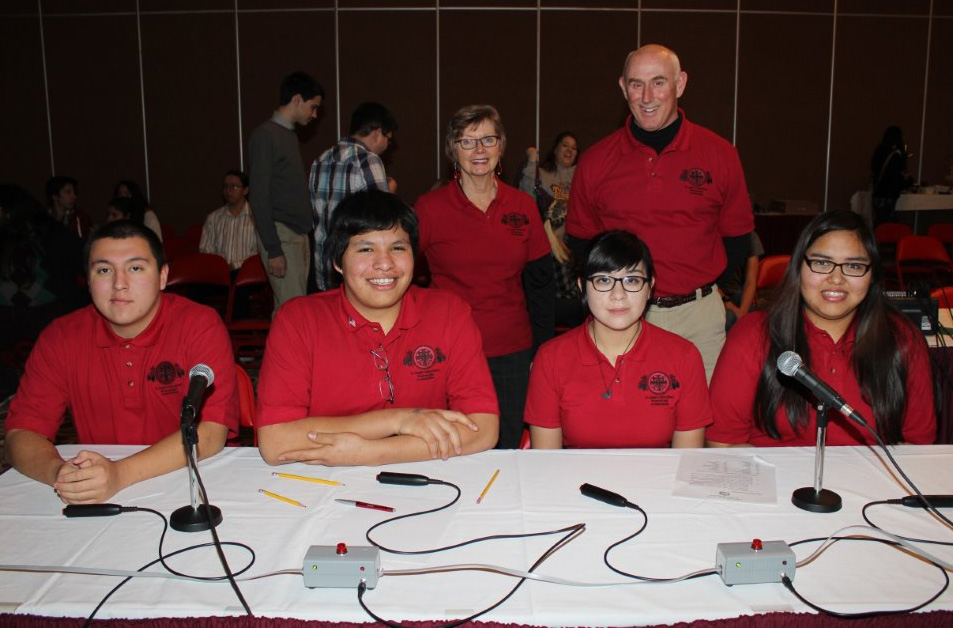 The winning team goes to the next round until an eventual champ is crowned. Easy right….Nope….Ever watch Jeopardy? It is pretty easy watching from the safety of your home. No one can see you worry, sweat and doubt yourself trying to remember what you know, hoping not to let down your team all in those excruciating 5 seconds! Nerve wracking…and that is from the coach's perspective!
With the adrenaline pumping in anticipation of the first match with Cheyenne River, the game began. Within the first 2 minutes we were down 5-0. Ouch! Once the shock and intensity of kickoff was over we got down to business. We were tied 8-8 at half time briefly surged head to 13-10. We had a chance with a few current event and Native American questions, but couldn't buzz in quick enough and lost 13-17.
Now off to the loser bracket, which means you get to compete as long you win. Our next opponent was Crow Creek — this was a team our students really wanted to win against, since three of our team members are from that area. Now with the first game jitters out of the way, we rolled to a commanding 17-5 victory over Crow Creek.
Phew – we are still in the hunt! The next match would be in two hours against a formidable team.
And what a match that one was! Everyone contributed to the victory. We missed a number of questions to begin with, but answer by answer we roared back from an 8-3 deficit. With everyone answering crucial questions, we won 16-11.
The students were now believing in themselves and beginning to wonder who we would have to beat in order to win the Knowledge Bowl.
Our mantra became "One match at a time."
The competition was getting more intense. The winner of our last match of the day would advance to the championship rounds. We fell behind early, but by halftime took a two point lead. Each team member contributed in the comeback for a 17-16 victory!
Resiliency! It was great to see their confidence growing.
Day two really tested our mettle. We lost… but we won.
We lost on a technicality. They won on a technicality… we lost. Bummer. Angela, one of our two seniors, gave the answer "inverse," but the answer they were looking for was "inverse property." She felt the answer was adequate since "property" was stated in the question. No worries, still 39 seconds remaining. The opposing team tied! Then they answered the bonus question…bell rang…match over… we lost 13-14. Yuck!
Angela was dumbstruck. "Can't you do anything? You are the coach." Sadly, I said to her, the captain is the only one who can challenge a question.
"I didn't know that!"
"Bummer, yeah… but let's go talk to the judges," I said. We went over and she pleaded her case with courage and respect. They all agreed with her argument, including the moderator.
"But you didn't challenge. We're sorry."
One of the judges patted her on her back and said "You were right…I am proud of you!"
We were in shock and denial. Then we began commiserating, going over where the areas that made a difference in the final outcome. To watch the students process the experience was remarkable—they had the disappointment, they recovered, they planned for next time.
They learned a valuable life lesson about getting up one more time than you fall down.
We ended on a high note with R.J. placing first on the government exam over all students competing! Our team finished 6th out of 14 for individual exams.
They earned 5th place out of 14 teams, and that's a lot to be proud of. This will be a sweet memory and gave us a taste of victory. There is something magical about overcoming all odds and doing well. Winning is a potent elixir. We were so close!
We say good bye to our two seniors, Angela and R.J., and are excited to have two strong core members of the team returning for next season's 39th LNI.
Congratulations everyone and good luck next year!
Patrick, Academic Advisor