Greetings once again to all of you who have a special place in your heart for St. Joseph's Indian School.  As Fr. Steve is away for some meetings and another donor luncheon, he has asked several of the staff here to keep you informed of what is happening on campus.
I just got back from the airport in Sioux Falls, South Dakota picking up one of our college SCJ's who is on Spring Break.  As he has been out to St. Joseph's before during the summer when very few students are around, he desired to come and see the program in action.  He'll be helping out as a student aide and will help with our Home Prayer program in which each of our 19 homes are visited for the purpose of a prayer service based on a selected theme.  This month we were reflecting on self-control.
Yesterday, I had the chance to go with St. Joseph's Indian School's  principal and the victors of St. Joseph's spelling bee to the Corn Palace Regional in Mitchell, South Dakota.  The students were broken up into class groups.  This is the first time St. Joseph's students have been entered into the program that ends at the National Spelling Bee in Washington, DC.  Some went out on first or second words, others went deeper into the competition and our 8th grade student won third place.  For being a first time endeavor, we are very proud of all those who competed.  They set the bar high.
We got back from Mitchell with time to spare, so we got to help officiate in the Chamberlain Chamber of Commerce basketball tournament. This tournament is offered for 4th, 5th and 6th grade teams from the local areas around the state of South Dakota.  St. Joseph's hosted the 6th grade boys and our team earned 4th place.  The championship game went into overtime and was won literally on a last second lay-up that brought victory to a team from Spearfish over the Chamberlain Cubs team.  Our recreation staff was happy to help since it gives people from around the state the chance to see our school and find out about what we have to offer here at St. Joseph's.  Many kind comments were made about our gym facilities, which your generosity makes possible.  Thank you.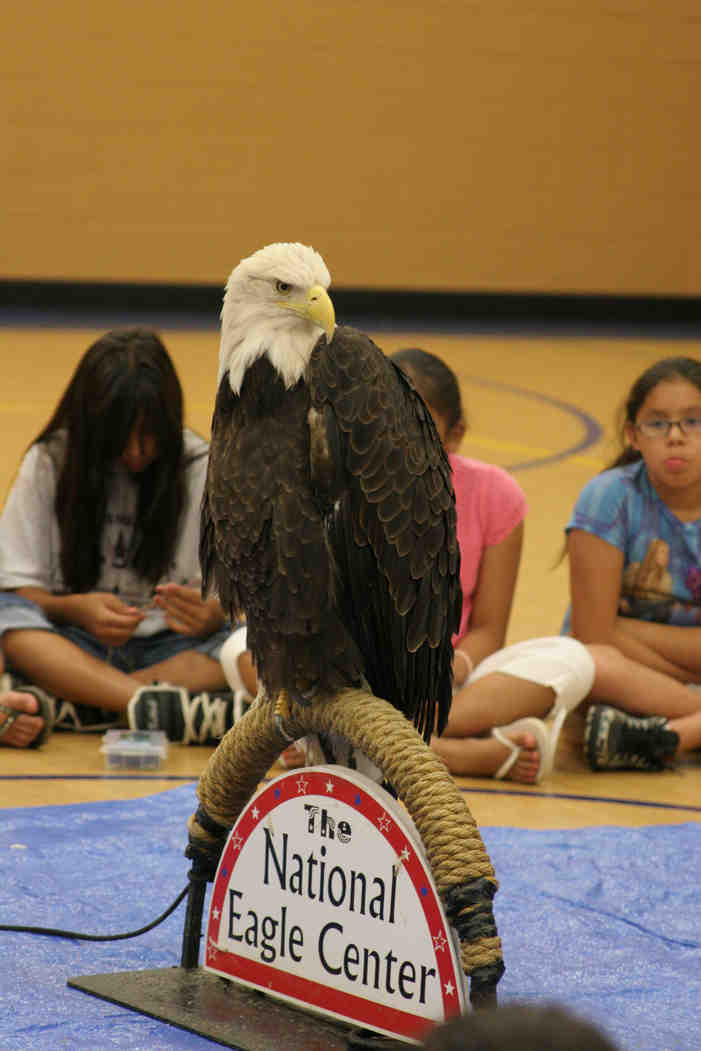 All the grade school students had the chance to take part in a bald eagle presentation put on by the Minnesota Raptor Center in St. Paul, Minnesota.  They brought over four birds to show our students—a red tail hawk, a peregrine falcon, a horned owl and a magnificent bald eagle.  The presenter shared insights into their lives and  capabilities, then answered a wide variety of questions from our Native American students.  It was an impressive sight since several of the birds have special significance for the Native American people.  It was also pointed out how the birds are being affected by the use of chemicals for farming and lead for fishing. Read more about bald eagles on St. Joseph's Indian School's website.
The last bit of good news this weekend is that another of our high school graduates received word about being accepted at the University of Minnesota-Morris and receiving a scholarship.  Two other graduates also  found out they will be attending the schools of their first choice, so is this selection the first choice of the student involved.  We congratulate them all.
 May the Great Spirit bless and keep you all safe and healthy this upcoming week.
All for this week, but I'll be in touch again next Sunday since Fr. Steve will still be away.  May the Great Spirit bless and keep you all safe and healthy this upcoming week.  If anyone wants snow, we have lots to share since we got hit again Saturday morning.
Fr. Anthony Kluckman, SCJ
Chaplain
St. Joseph's Indian School