Happy St. Patrick's Day!
My grandmother was from County Mayo and my home parish was St. Patrick's so we always celebrated. I've spent 20 years working with Lakota (Sioux) people and continue to learn from and appreciate their rich culture, but I also try to walk with people in their times of ongoing struggles and share a message of hope and reach out with compassion.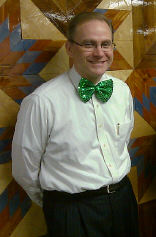 The staff at the business office enjoyed our annual spring staff appreciation luncheon. With the dining hall providing a tasty turkey and rice dish, we gathered in the downstairs meeting room and with no business and no agenda, we got to enjoy some leisure time together. Shirley found a fluorescent green bow tie for Kory, our Director of Development to wear. It may have been "out of his comfort zone" as he said, but he was a good sport and it gave the gathering more levity. Besides faithfully answering all our mail and donor calls and questions, the staff has been working on long-range planning that has taken a big investment in their time. Hopefully the ideas will help us meet donor needs and continue to raise funds for our programs.
At the meeting to evaluate our Akta Lakota Museum collection, for a small museum we got high praise for what we have that people can learn about Lakota (Sioux) culture. Within the next year we hope to add onto the museum, especially to have proper space to store and conserve many historical artifacts and wonderful pieces of Native American art.
I stopped by the Crane Home for supper. Several of the high school students are thinking about summer jobs. Several want to work here because jobs back home on the American Indian reservations are hard to come by. In running a residential education program and doing both our own maintenance and fundraising here, we have a wonderful opportunity for staff to pass on such a wide variety of skills to our students as they consider what directions their careers might take. While students usually work in maintenance, museum or the summer day camps, today I talked to staff in the business office and dining hall about students who would benefit from experience there.