We just returned from Buellton California, in the scenic Santa Ynez Valley, where we hosted two donor appreciation luncheons in the area. While some of our friends had a short trip, others drove in from as far as Fresno, Lancaster and Anaheim to join us for an afternoon. Ashley and Martina were our two Native American high school students who spoke to our donors about their life and routine at St. Joseph's Indian School.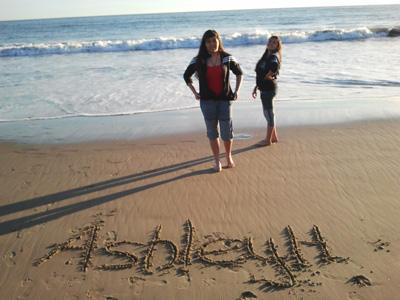 Travel was an adventure. For Ashley it was her very first flight. The attendants let her peak into the cockpit and the pilot made her feel welcome (and safe!). From Sioux Falls to Denver, she had a window seat and could see the Missouri River, Badlands and Nebraska Sand Hills as we flew high overhead. On the second leg, Martina stared out the window, marveling at the mountains, canyons and vast stretches of western desert, which gave way to the incredible sprawl of metro Los Angeles. Our last short leg was at night, and the city and coastline came alive with lights and we descended into Santa Barbara. Our return was not as smooth. Fog delayed our takeoff, and because of missed connections we could only get back as far as Denver, and had to stay overnight there and come back a day late. The girls didn't mind missing another day of school, and had fun walking around the airports, window shopping and people watching.
Despite the long distances, I recognized a few donors who have made the pilgrimage to St. Joseph's campus for a summer vacation stopover, or to take part in one of our powwow celebrations. When others hear of our activities in September, it piques their interest and I'm sure we'll see a few more make the journey.  One couple who love motorcycling hope to roll by and visit during the Sturgis rally in August.
Tina, our phone receptionist, traveled to help with the set up and hospitality. She told me that one of the most frequently asked questions by donors on the phone is about me – "Is Fr. Steve a real person?" Many said it was nice to meet the one behind letters and emails. But the same holds true for us.
It's a joy to be able to thank groups of people in person who make the work of St. Joseph possible.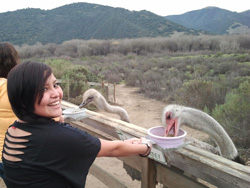 Saturday after the luncheon, we checked out a nearby ostrich farm – a unique experience for me, but a sheer delight for our Lakota girls! A bowl of feed cost just $1. We held it out on a dust pan and hungry birds flocked around us. It was amazing to see them up close and personal! In the distant fields we observed their surprisingly quick running, and even saw a male doing an elaborate mating dance to get attention.
We drove into Solvang for mass. Visiting Old Mission Santa Ines allowed me to tell some of the background of the California missions and the history of the area tribes. It was also the annual appeal Sunday for the diocese. In lieu of a homily, we heard a 22 year old Hispanic Woman speak about how the parish school she attended in South Central LA helped give her a chance to go to college and present her with opportunities that others in her neighborhood didn't have. I looked at our Lakota (Sioux) students, hoping and praying the same for them.
We sampled some Danish foods and pastries, then walked around to enjoy the town's atmosphere. We found a bookstore that had a large section dedicated to Hans Christian Anderson, and later we took a photo by the Little Mermaid fountain.
On Sunday after the luncheon, we finally spent some time at the ocean, walking along Refugio State Beach.
My favorite moment came when Martina and Ashley were intently tracing their names in the sand with their toes, and a wave came up from behind, about mid-calf height, and sent them squealing and laughing to safer ground.
After enjoying some of the open scenery, we continued to Stearns Wharf in Santa Barbara, where the shop with shell jewelry was the highlight.  On these trips, I notice that our students may buy one of two things for themselves, but they are always thinking of family and friends, trying to find something that will give them joy.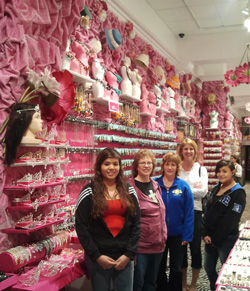 We headed downtown to the fashionable Paseo Nuevo shops. The girls' eyes lit up when passing a store called "So Good," filled with every kind of ring and necklace imaginable. It was the pinkest, blingiest place I have ever seen. I knew that, while it wasn't my cup of tea, they would be there a long, long time. That gave me a chance to go out for a walk and check in on the Super Bowl. After they had their fill, we ended up at a pizza place where we watched the fourth quarter of the game.
We're safely back now, with lots of memories, not just of sights, but of the warm and wonderful people we sat at table with and heard their story and their connection to St. Joseph's.
How did you become connected to St. Joseph's Indian School?