It has been said, 'if you don't like the weather in South Dakota, wait a few minutes.'  That was reality in Chamberlain last weekend. Monday's newspaper mentioned that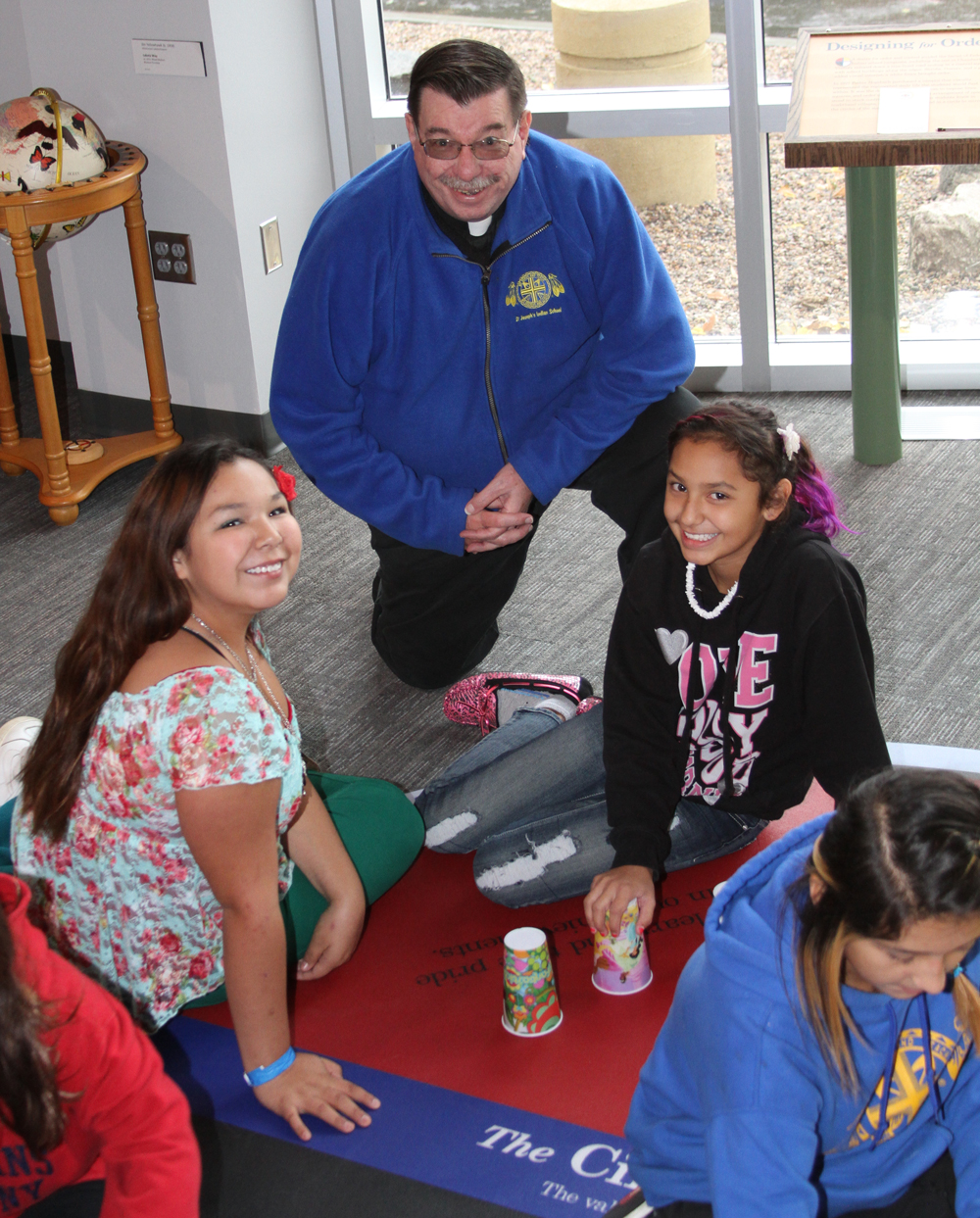 we had the highest reported wind gust at 64 mph in the state on Sunday.  The storm brought a bit of everything, starting with rain followed by snow accompanied by high winds leading to blizzard conditions, punctuated by short spats of clear sunny skies.
Monday and today, we dealt with sub-zero conditions.  This type of weather brings its own challenges, even without additional snow.  Keeping the children inside all day at school and then again all evening requires the staff to be extra creative to keep our Lakota boys and girls from getting stir-crazy.
On a positive note, the pool has re-opened! A mechanical issue caused the pool to be closed for nearly a week. It was nice to see our Native American students filling the rec center Sunday afternoon, some participating in girls' inter-city basketball and others heading for the pool.  Your generosity allows us to operate the recreation center and offer many fun, healthy activities for the Lakota children year round.
All week, St. Joseph's is celebrating National Catholic School Week with some special activities.  There was breakfast for school staff yesterday morning; today was 'adopt a department' day. The students will visit different departments here on campus to say pilamaya – thank you – for their work. On Wednesday there will be a prayer service; Thursday students will take part in academic games and Friday we will wrap up with a special treat for all the students.
The Chamberlain High School Theater Production group presented The Afghan Women over the weekend, based on a play by William Mastrosimone.  The group, which includes five St. Joseph's high school students, will perform at the state one act play competition on Wednesday in Pierre, South Dakota.

The story is about an American-Afghani woman who returns to her family estate and finds it has become a refuge for orphaned children.  She feels she must stay and help, and is joined by three widowed Afghan women who stumble upon her home seeking refuge.  A local warlord and his troops come on the scene looking for supplies and potential fighters as they take over the orphanage.  As the play unfolds, various characters relate dramatic events that have taken place over the years of fighting the country has endured.

We wish the cast and crew the best as they perform on Wednesday!
We hope you all have an enjoyable week and are able to stay warm and safe.  Thank you again for your generosity. We continue to keep you and your loved ones in our prayers.
Fr. Anthony Kluckman, SCJ
Chaplain