At St. Joseph's Indian School, we work to give our Lakota (Sioux) students the same opportunities enjoyed by children in any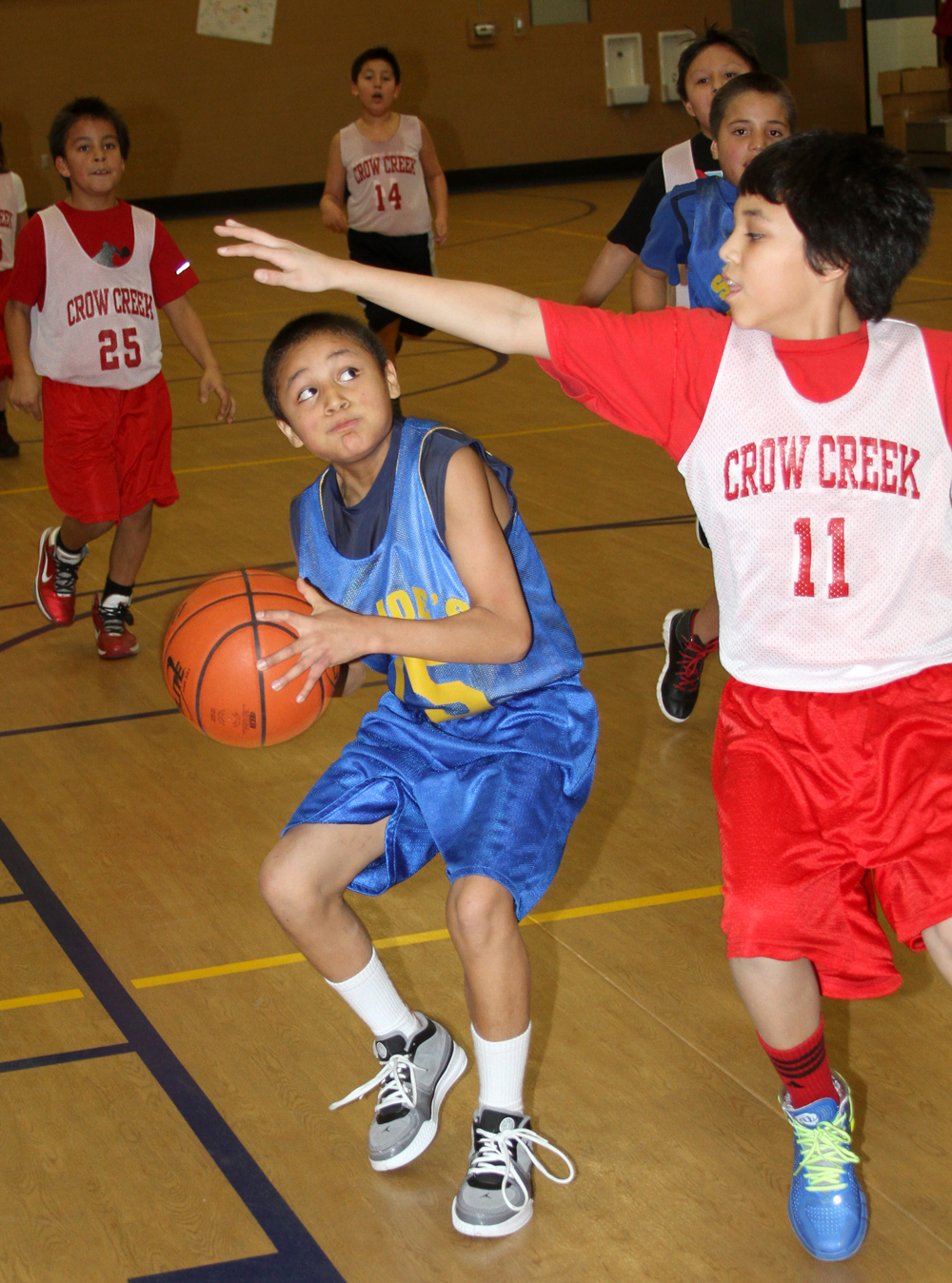 school. Basketball, volleyball, football and track are a few of the sports teams they can join during the school year.
Our girls' basketball season wrapped up just before Christmas break. Now, the boys are in full swing and St. Joseph's Braves have had a busy schedule!
Basketball News from Joe:  The seventh and eighth grade boys traveled to Lower Brule, South Dakota, on Tuesday and played two hard fought games. The boys had fun and split the pair.
The seventh grade displayed toughness on defense and won by a score of 43-26.  Joe, Wankiya, Ben and Cameron all played hard on the defensive end.  On offense, Louie, Alan, Jered, Pat and Ben all contributed to our scoring. It should be noted that Louie scored 29 points! A hard effort overall was displayed by Nathaniel and Duran.   
The eighth grade Braves played a hard fought contest but came out on the losing end with a score of 41-30.  Jay and Trenton led our scoring with 7 points each.  Keayton also scored three baskets. 

Defensively is where these eighth grade Braves excelled.  Ethan and Caden led the defensive attack, which kept us in the game for three quarters. 
We look forward to Thursday and our game against Pierre Indian Learning Center!
Basketball News from Bryan – The fourth and fifth grade basketball teams tipped off their 2014 season this past week.  On January 20, both teams were in action against Chamberlain. 
The fourth grade boys came out in their first game very excited and that showed on the floor. They jumped out to an early lead and never looked back.  The defensive effort was great and the boys showed great presence on the offensive side as well as they won 36-4.  All of the boys contributed in the win and they were proud of their first victory. 
The fifth grade boys also took on the Cubs that day.  They played hard against a good Cubs team, but came up on the short end losing 31-20.  The boys all played well and it was a good learning experience for their first game of the year. 
The fifth grade team was back in action Monday night against Lower Brule and got things rolling early.  The boys jumped up by 4 points right away and held that lead all through the game, winning 20-14.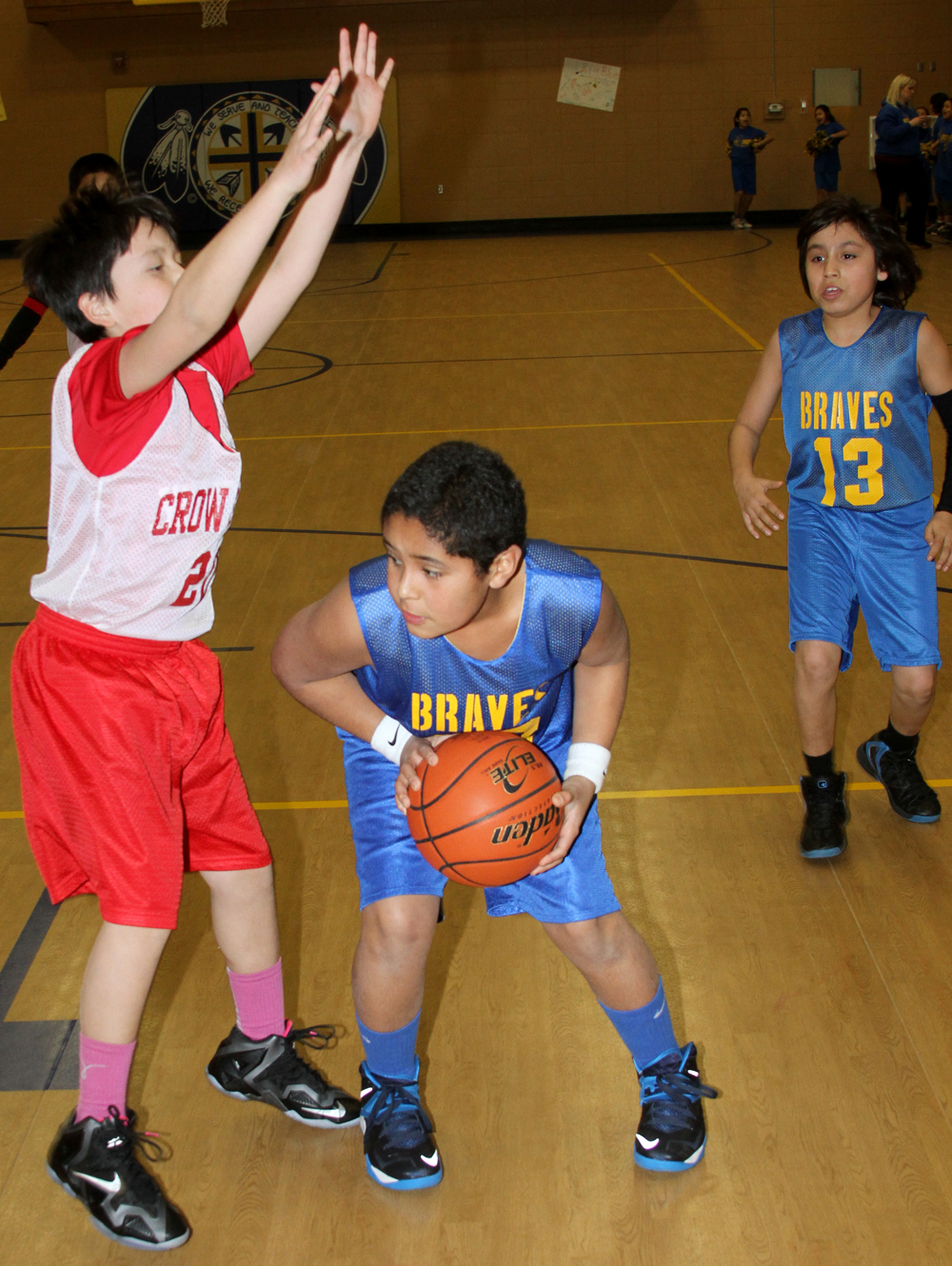 On Tuesday, the fourth and fifth grade teams hosted Crow Creek.  It was the second time the fourth grade took the floor. Once again, they came out pumped up and took care of business, taking control from the tip. The Braves showed great teamwork as several nice assists lead to most of our points. They stayed strong to win 29-6. 
The fifth grade boys were up next and came out a little flat.  Some of the shots weren't falling that normally do, but the boys hung in there and kept shooting. They came to life in the second half, playing much harder and with great confidence.  Crow Creek was just a little too much, however, and the Braves were on the short end of the score, 38-20.
Overall, the boys have showed steady improvement throughout the season.  They all show up to practice excited and ready to learn.  Great attitudes and cooperation have made the season a success so far!
Thanks to you, Native American youth are learning valuable lessons about leadership, teamwork and healthy lifestyles. Wopila tanka – many thanks – for your support!