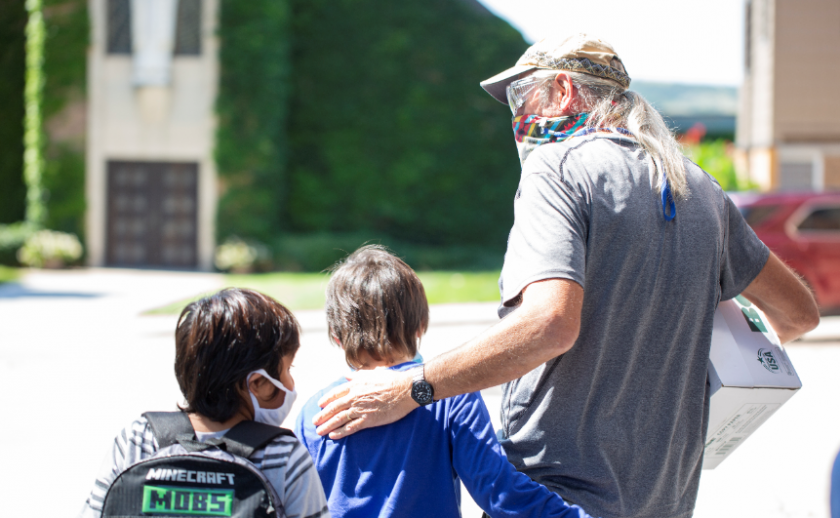 After a summer of going over the what-ifs, maybes, worries and worst case scenarios, St. Joseph's Indian School had a big decision to make on whether or not to reopen for the 2020-21 school year …
And we have chosen to open.
We understand this choice may not align with views of others around the country. But this was a decision we didn't make alone.
We spent hours and hours talking to staff, parents, our Parent Advisory Committee, public health officials and all other stakeholder agencies to determine if opening our campus was the right thing …
And it was determined it was. Of course, parents still made the final decision whether to send their children back to campus for the school year, but we are happy to say we are open to provide quality care to Lakota children — especially during the COVID-19 pandemic.
But, in order to provide quality care, we had to make some changes and adapt our existing procedures. This means campus looks and feels a little different.
*The following is a brief summary of some of the changes and/or adaptations. This is not an extensive list, nor does it include every single change or detail.*
Although this plan will set into motion many changes to our daily operations, St. Joseph's Indian School will stay true to its mission of partnering with Native American children and families to educate for life — mind, body, heart and spirit.
St. Joseph's will take a closed campus approach upon the return of our students. Students, with the exception of high school students who will attend the public high school in Chamberlain, S.D., will not be coming to and from campus in an effort to create a "campus bubble" of health.
Students will live, learn and socialize in their communities: 2-3 grade, 4-6 grade, 7-8 grade and high school. This includes different walking paths and doors to enter and exit the school building, separate lunch times and tables, in addition to separate recess locations. Each community has assigned restrooms in the school as well as an assigned day to see their Family Service Counselors.
Students will wear masks for the first two weeks upon return to campus. During this time, houseparents will also be doing daily temperature checks and monitoring the development of symptoms. If a student shows symptoms of COVID-19, there is a plan in place for suspected positive students that will be followed.
All employees self-screen upon entrance to campus each day. Any employee unable to pass the screening is directed to leave campus and contact their supervisor and Human Resources immediately. Employees will be instructed to follow the directions of their health care provider.
Staff are required to wear a cloth face mask and/or face shield at all times when interacting with students and fellow staff.
St. Joseph's has a protocol in place for responding to confirmed cases of COVID-19 that involves informing staff who may have been affected, working with the South Dakota Department of Health, following the critical infrastructure protocol and cleaning measures.
Quarantine is used to keep someone who might have been exposed to COVID-19 away from others. Quarantine helps prevent spread of disease that can occur before a person knows they are sick. Isolation is used to separate people infected with the virus (those who are sick with COVID-19) from people who are not infected. Students who have been exposed to another student in their community who tests positive for COVID-19 will resume wearing masks and be quarantined to their campus home for 14 days to monitor for symptoms consistent with the virus. During this time, students will engage in remote learning.
St. Joseph's has established cleaning protocols consistent with CDC guidelines, which includes measures such as increased daily cleaning of high-touch surfaces. All disinfectant products supplied by St. Joseph's Indian School are rated effective against COVID-19. Custodial and houseparent staff have been trained on the proper cleaning procedures for this virus.
St. Joseph's Indian School is committed to providing a safe and healthy campus for all staff and students. We ask for your prayers as we move forward with the 2020-21 school year.
"and the prayer of faith will save the sick man, and the Lord will raise him up …" — James 5:15
Wóphila tȟáŋka — many thanks — for your support during this time of great uncertainty.