Higher education is expensive.
It's the simple fact of the matter. Not everyone can afford college, as well as the living expenses that go along with it. And the idea of paying back a large amount of student loans upon graduation is daunting for many.
Thankfully, donor support has lessened that burden for many graduating seniors and alumni at St. Joseph's Indian School. For example, there are two programs benefitting graduating seniors and Native American students seeking higher education: The Senior Suitcase program and our Scholarship program.
The Senior Suitcase program gifts graduating seniors with approximately $1,000 to purchase items such as bedding, mini-refrigerators, bath towels and other essentials for their dorm rooms or first apartments.
The Scholarship program works a little differently. Native American students, whether they've attended St. Joseph's or not, must apply to receive the funds. Last year, St. Joseph's Indian School awarded Native American college students over $168,000 in scholarships, with an average scholarship of $1,800, to pay for tuition, supplies, books, etc.
It's such a blessing to be able to give young people a financial boost — people like Christian, who has received multiple scholarships from St. Joseph's …
This is Christian's story.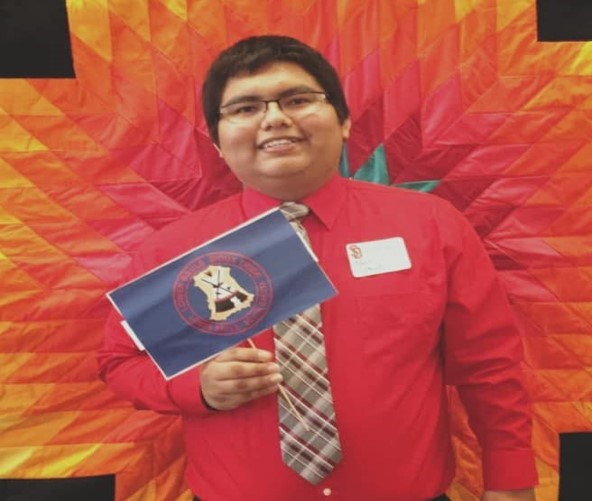 During the middle of his sophomore year of college, Christian began to doubt himself. He had jam-packed his course schedule with difficult classes and all at once he started to wonder if he could handle it all. Was he smart enough? Was he cut-out for college? Could he really do this?
But, then he remembered some of the lessons he learned while he was a student at St. Joseph's Indian School. It was then he sat himself down and really looked at his situation to see how far he had come and where he still wanted to go.
"That's when I made three big goals for myself and made a plan on how to get there," said Christian.
Be the first male in his family to get a bachelor's degree, and the first person in his family to get a graduate degree.

2. Represent the Native American community as a whole — whether that means one day joining a tribal council, state legislature or the Department of Tribal Relations.

3. Become the very first Native American governor of South Dakota.
Christian, at 23 years old, calls these his "Goals of Service to Others."
He knows those are big goals and he understands they will require him to be his very best. But he's already on his way to meeting them. In fact, his first goal is almost complete. He's already earned a bachelor's degree in Political Science and Business Administration and he is nearing graduation with his master's in Public Administration.
"St. Joseph's challenged me and really helped develop my love of learning," said Christian. "Back home in my reservation community, I wouldn't have had to try so hard to get straight A's. St. Joseph's expects a lot from you and helps you get there."
While a student at St. Joseph's, Christian went on numerous trips that gave him opportunities to meet lawmakers, a U.S. attorney, South Dakota's governor and other prominent people. They were opportunities that fueled his political passions.
And he wants to take his passions and use those for good in reservation communities across South Dakota. While working as a poll worker, Christian noted the large amount of people who were not registered to vote in South Dakota elections and voter turnout for state elections was notoriously low for Native Americans. However, voter turnout remained high for tribal elections.
"I want to help my people see the value in participating in the state government and that their voices need to be heard," he said.
And Christian has been able to focus on helping others and becoming a voice for his people in part because of caring people like you! Thank you for your support that allows our school to bless such hardworking individuals who we hope will one day do great things!