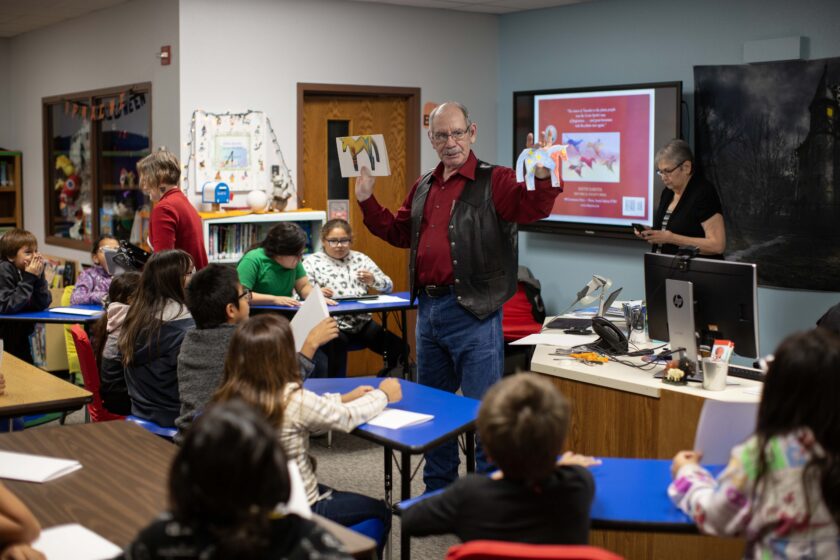 This fall, acclaimed Oglala Lakota ledger artist Donald F. Montileaux paid a visit to St. Joseph's Indian School where he sparked students' imaginations with his masterful storytelling and vivid artistic style.
Montileaux, accompanied by wife, Paulette, spent the afternoon with third-, fourth- and seventh-graders in the school library, recounting the story of "Tašuŋka, A Lakota Horse Legend" and mentoring students in illustration.
"My wife is going to come around and punch your eyes out," he said to wide-eyed students. After a pause, the class heaved a collective sigh of relief when they realized he was referring to the hole punch Paulette used to create the effect of eyes on their two-dimensional-turned-three-dimensional horse illustrations.
Students were attentive as Montileaux shared the story of his childhood learning to draw Mickey Mouse at the kitchen table. He told them about his internships with artists Oscar Howe and Herman Red Elk, and his work as an illustrator. He spoke about adding Lakota storytelling to his successful career joining the ranks of traditional tribal storytellers who used their wisdom and gifted voices to paint pictures of wonderful, magical animals and colorful birds on the walls of young people's minds.
Seventh-grader Brooklynn's horse was decorated with constellations, the sun and the moon. Her take away from Montileaux's visit was, "Be creative! It's okay to go outside the lines. I felt like a kindergartener again," (which was a good thing).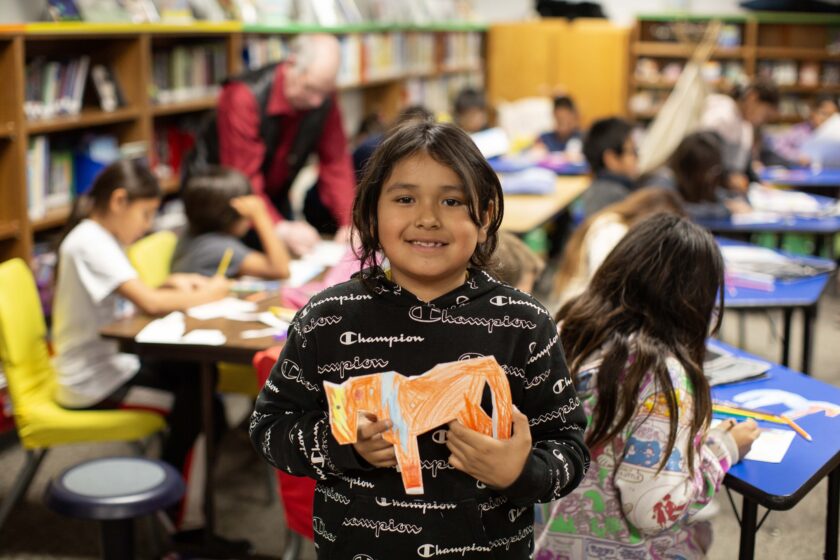 Students agreed that they enjoyed the experienced and felt motivated by it. Third-grader William worked on a book about the Titanic and was encouraged by Montileaux to keep working at it.
Claire, St. Joseph's librarian, who recently awarded the Catherine Hershey Educator of the Year Award by the Coalition on Residential Excellence, prepared the students well for the visit. They demonstrated respect and regard for their Lakota elder giving sharp focus to his stories and teaching.
Earlier in the day, Montileaux taped two episodes for the spring season of the school's Hóčhoka podcast.
Learn more about the wonderful things taking place at St. Joseph's Indian School by visiting stjo.org or on Facebook at stjo.org/facebook.