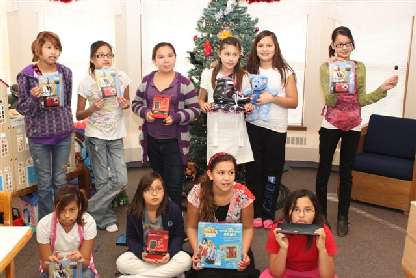 As our Native American students return from Christmas break, St. Joseph's Indian School's campus begins to come alive again!  It's great to see the smiling faces and to visit with students about their holidays and break.
The students returned on Monday anticipating the Student Christmas Celebration, which was held on Sunday.  As houseparents wrapped the gifts and placed them under the tree, students began to guess what might be inside.  The weekend was full of fun activities, such as Friday night movies, rec center gatherings and walks to downtown Chamberlain.  Yes, South Dakota's unseasonably warm temps allowed homes to take walks, play at parks, and shoot hoops outside!
Students scurried to prepare for Sunday's Mass, especially the fifth graders as they had a special role acting out the Christmas Epiphany.  They came dressed as angels, shepherds, wise men and the blessed holy family – so full of excitement and energy!  The Lady of our Sioux Chapel was full that Sunday as many additional staff was in attendance to celebrate with the students.  Fr. Steve and Fr. Anthony said a beautiful mass as the students gazed.  Students were a little quicker to process out, looking forward to lunch at their home, games and the opening of gifts!
As I floated in and out of different homes, it was obvious that the 'Christmas Spirit' was present …  I thought about how blessed we are to be part of the St. Joseph's Indian School mission and the many gifts that are present in our daily lives because of this.  While the gifts were wrapped and under the tree that day, we must not take for granted the many gifts that are present throughout the year because of your support…   Pilamaya – thank you!
PS – Watch a short video of the St. Joseph's Indian School's youngsters opening presents and saying, "pilamaya – thank you" here!