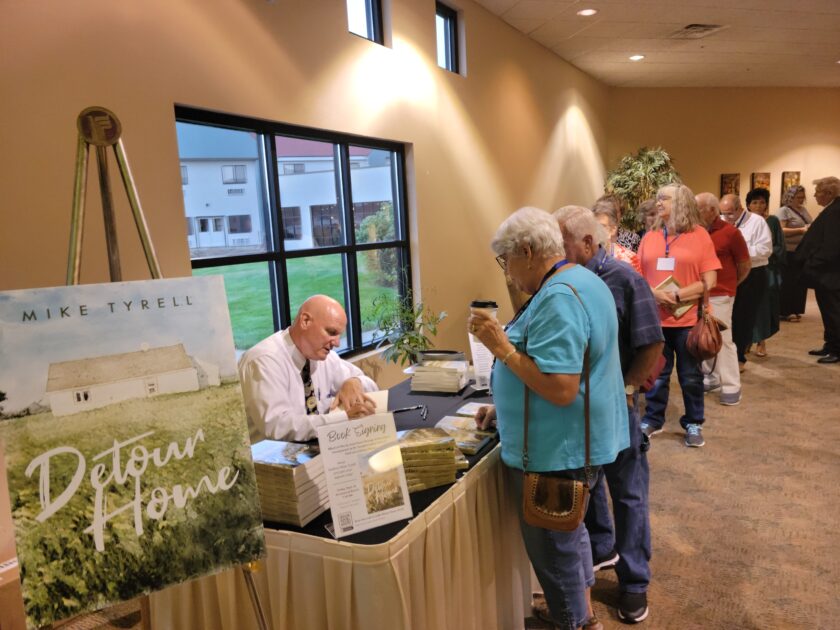 Mike Tyrell has served St. Joseph's Indian School for 38 years in multiple roles leading up to his presidency of our organization. It might surprise you, but Mike didn't come to St. Joseph's with his wife, Kim, in 1985 with the intention of staying very long. They thought it would be a pit stop. A place to sow some good into the world before they settled down somewhere else.
However, God had other plans. Plans that Mike recently recounted by putting pen to paper. He wrote and he wrote and soon enough his writings became a book entitled, Detour Home. Within this book, Mike illustrates his experiences serving with Kim as a houseparent, and all the challenges and successes that entailed.
"Kim and I were blessed to be houseparents at St. Joseph's Indian School over 35 years ago. But like many things in life, we didn't realize it at the time," said Mike. "Detour Home is loosely based on our experiences, and depicts the struggles and, ultimately, the positive impact houseparenting has on the lives of a young couple."
The book is for sale now! What makes its publication an even greater blessing: profits from book sales will be donated back to St. Joseph's Indian School! This means when you purchase this enjoyable read for yourself, you're also benefitting the mission of St. Joseph's Indian School. Sounds like a win-win to us!
If you purchase from Amazon, make sure you use AmazonSmile for an even greater blessing to St. Joseph's. When you choose us as your designated charity, Amazon donates a small portion of your purchase total back to our school without any added cost to you.
If listening to books in your vehicle or at home is more your style, the audiobook version of Detour Home was just released. You can find out more at Audible.com and also hear a sample excerpt narrated by our very own Scott Woster, a Family Services Counselor at St. Joseph's Indian School.
To learn more about St. Joseph's Indian School, visit www.stjo.org today.