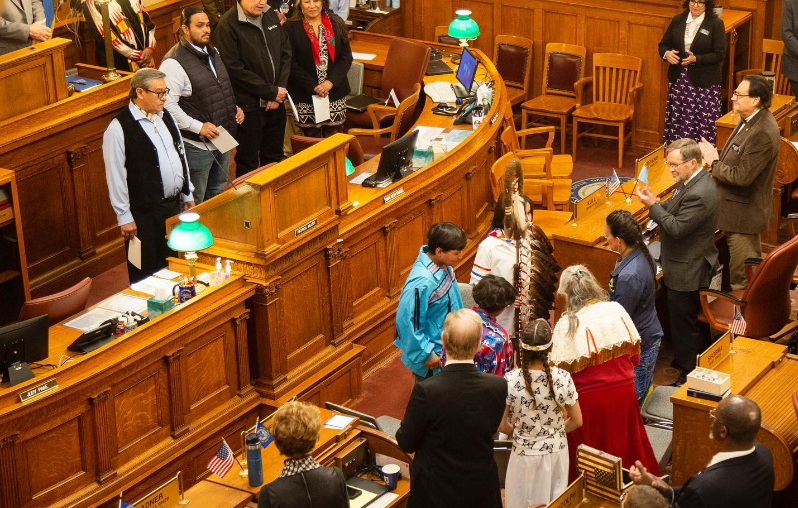 Crow Creek Sioux Tribal Chairman Peter Lengkeek, in his Jan. 12, 2023, State of the Tribes Address to a joint session of the South Dakota State Senate and House of Representatives, called the experience a "humbling opportunity." His words likewise summed up the feelings of St. Joseph's Indian School students who participated in the day.
Four student representatives from St. Joseph's Indian School, Junior Miss St. Joe's Aleighya, Jay, Caden and Eagle Staff Bearer Romeo, took part. They were accompanied by the school's Lakota Studies Lead LaRayne Woster and Belinda Jo Rencountre, an educator from Crow Creek whose students could not attend because of a closure.
According to Woster, the group attended the event with more than one aim in mind.
"I wanted our students to see firsthand what tribal leadership can do at the state level, beyond the local reservation. More importantly, it was an opportunity to put into action what they know about their culture and language," she noted. "Being able to do so in front of others takes strength and courage."
Their morning began in the Capitol rotunda, where they sang a song (16:25 video mark) and introduced themselves in Lakota. Dave Flute, secretary for the State Department of Tribal Relations, explained the significance of the flag song composed by Ellis Chips, an Oglala Lakota Sioux and World War I veteran. Despite Native Americans having no citizenship at the time of its writing, he wanted to convey that we are all one people under the flag of the United States.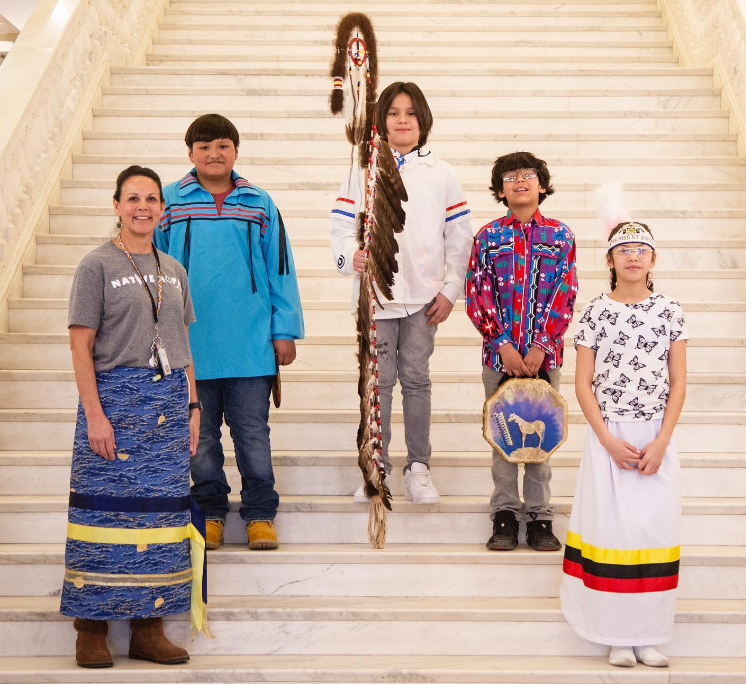 The rotunda gathering also allowed students to meet and converse with state representatives.
"It felt good to meet some famous people to my culture," acknowledged fifth-grader Romeo.
Next, Romeo participated in escorting Lengkeek to the podium. He stood at humble attention throughout Lengkeek's speech that encouraged senate and tribal leaders to work together to solve the problems of access to food, mental health services and educators for all the people of South Dakota.
Lengkeek noted the cooperation that brought funding for the State Attorney General's Office for a Missing and Murdered Indigenous Persons Coordinator. The school's partner organization, Native Hope, announced a three-year grant to fund the position in February 2022.
The students led the Lakota flag song after the opening prayers. Aleighya commented that singing for her ancestors, her family and her culture was good.
To learn more about St. Joseph's Indian School, visit www.stjo.org.