Aveyon may only be in seventh grade, but she has a knowledge and passion for her Lakota culture that far exceeds her years. It is a knowledge and passion she enjoys sharing with others, particularly her peers at St. Joseph's Indian School.
"I've always been that 'tradish' (traditional) kid that would go around everywhere telling my friends all the stories that my grandma told me," said Aveyon.
But this past week, Aveyon didn't have to go very far to reach her peers. Instead, she had their full attention as she led lessons in hand games in her Native America Studies class at St. Joseph's Indian School. Hand games are traditional games of chance and have been played in Native American communities for as far back as its origin story.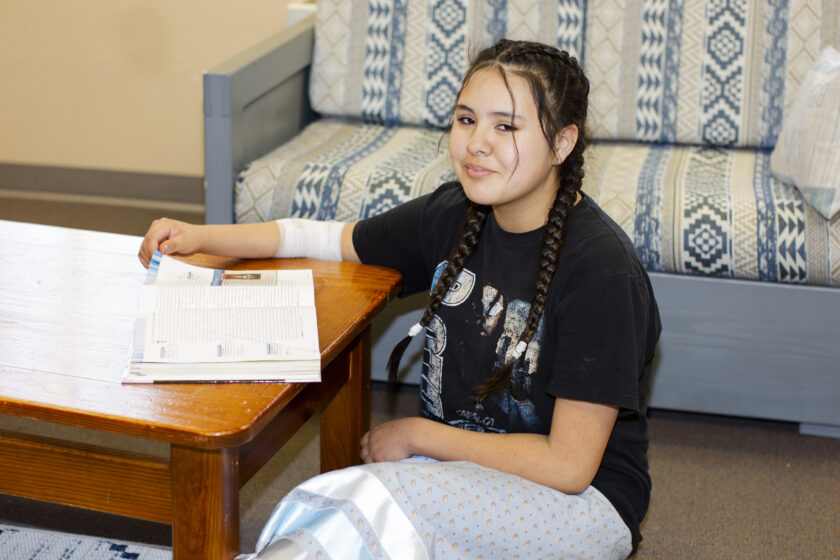 The way the story was told to Aveyon describes a Native woman who lost her husband in battle. Distraught with grief, the woman went away from her village in solitude for one year to mourn him. After the year concluded, the woman returned to her village and saw a group of children playing a game with sticks and bones. She approached them and they taught her how to play. The woman became so good that many other people began to notice. Soon, another team challenged her team to a competition. The winners would get fine war ponies. The widow's luck continued and her team was victorious, claiming the horses for themselves. Her success led to the villagers creating a song in her honor. It is a song still sung today during hand game competitions.
Listen to the song now in the traditional Lakota language. It describes the widow as being good and strong as the singers request her spirit to help them win the game.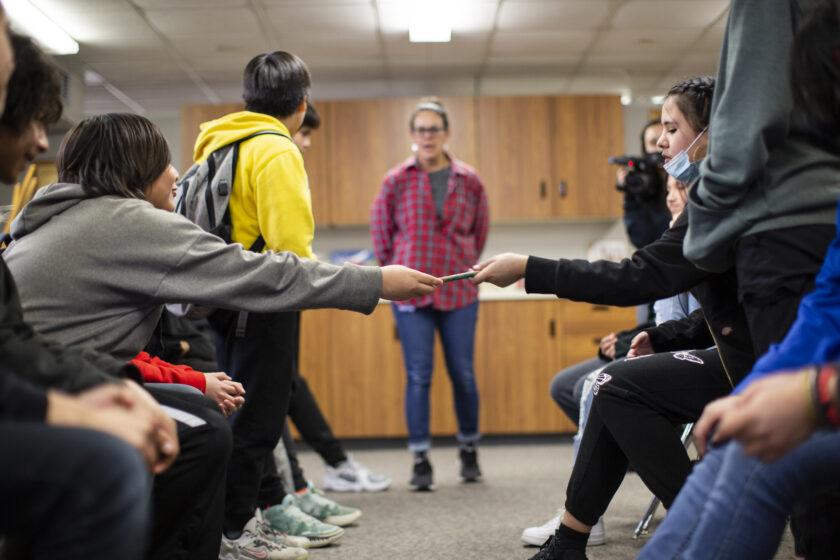 The game includes a set of sticks and bones, rocks or other small items concealable within a hand. One team begins with four bones — two unmarked male bones and two marked female bones. The players conceal the bones in their hands and the other team must attempt to choose the correct hands that hold the female bones. If they're successful, the guessing team gets the bones back.  If the guessing team guesses a male bone, they forfeit a stick for the incorrect guess. The team who eventually collects all of their opponents' sticks is named the winner.
Confused? It's not as complicated as it sounds once you're actually playing, said Aveyon.
"I was always a fast learner when it came to hand games and the songs. I picked it up right away," said Aveyon. "You have to be really careful about how you hold your body while you play hand games. Your body sends off slight cues about which hand has the female, so you have to be watchful for those cues and also make sure you're not giving anything anyway to the other team."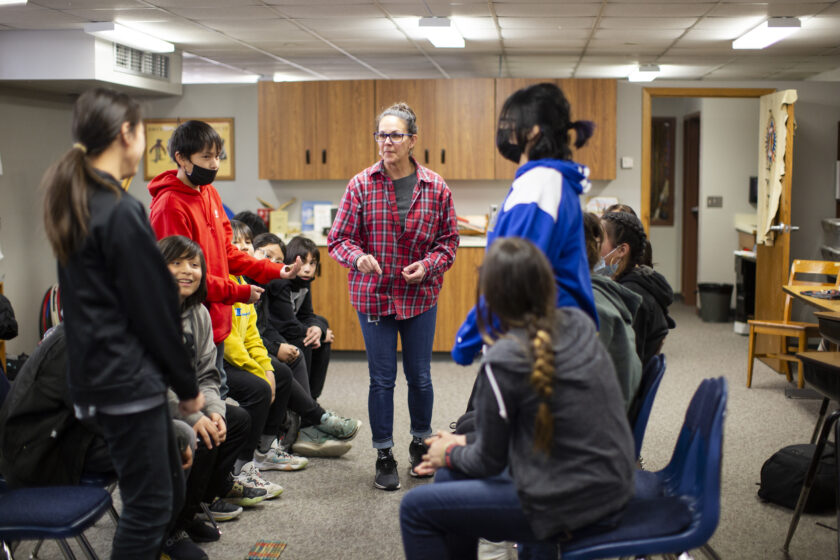 It was that speck of advice and more that she shared with fellow students alongside her teacher, LaRayne. Although this is something LaRayne would normally teach students, she chose Aveyon after the student volunteered to share her knowledge.
"I knew that Aveyon wasn't shy and would do a good job teaching others," said LaRayne. "We made a pretty good team working together to create some cultural fun and learning. This girl will make our world a better place. She is respectfully outspoken and is on the road to knowing who she is culturally."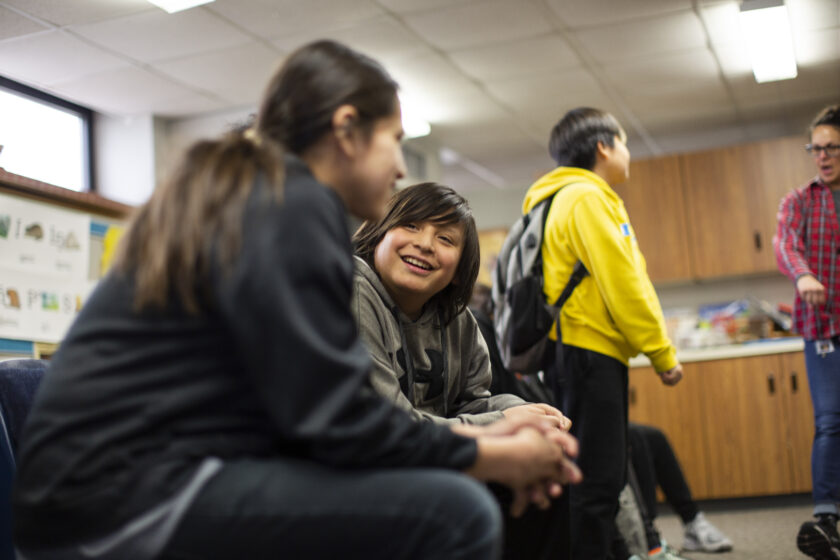 And Aveyon is willing to take others along on that journey for the greater good.
"To me, it's important to pass stuff like this on," said Aveyon. "When I was growing up my grandma would be sharing stories and I'd be wondering, 'Why are you telling me this?' because I was just a little kid. But, then I was told our language is dying. Our culture is dying. It's good to know these things because as we kids keep growing up, we keep our culture alive, and our tradition alive."
To learn more about the traditions of the Lakota (Sioux) culture, visit stjo.org/culture.