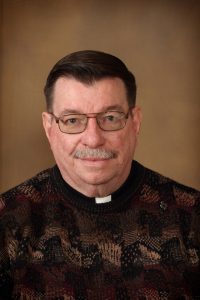 Good Day from St. Joseph's!
St. Joseph's Powwow Weekend has officially begun! We are enjoying welcoming visitors, donors and friends to campus and look forward to Saturday's powwow.
The sports program here at St. Joseph's is off to a flying start.
This week, our 6th-8th grade Cross Country team has had three meets—one in White River, another in Pierre and the third here in Chamberlain.
Our 6th-8th grade girls' volleyball teams hosted Todd County on Tuesday and the 7th-8th grade teams participated in an all-day tournament last Saturday.  The 6th grade team is currently 1-0, the 7th grade team is 3-1 and the 8th grade team is 1-3 after losing some close matches.
The 7th-8th grade football team kicked off their season last night by hosting Todd County.  On Monday evening, there was flag football practice for St. Joseph's and Chamberlain's 1st-3rd grade students. Instead of them going the length of the field for 100 yards, coaches have the young teams travel sideline to sideline so several teams can play at once.  The Chamberlain High School football team has an away game this week, which should give them a bit of a test.  They are currently 2-0 and have won both games by the 'mercy rule'—being ahead by 50 points or more by halftime.
If you read last week's blog, you are aware that 'Flat Francis (Pope Francis)' is visiting campus this semester.  This past week, he spent time in the Dennis Home playing basketball, jumping rope, hula-hooping, visiting the pool, giving Amilia a blessing for her pretend illness and visiting McDonald's for ice cream.
'Flat Francis' has this week off to enjoy the powwow festivities. Next week, he will be visiting another home. We'll keep you posted on his adventures!
Our National Honors Society (NHS) Chapter recently elected their officers for the 2016-2017 school year.  They newly elected officials are preparing for their installation next week.
Those serving in elected positions this year are:
Thalia- President
Tayeden- Vice-President
Nevaeh- Secretary
Diamond- Treasurer.
The officers for the National Elementary Honor Society are Nevaeh -President, Jada -Vice-President and Julianna – Secretary.
St. Joseph's National Honors Society members meet during lunch time once per week to plan activities.
This year, our NHS leaders are seeking to make a real effort to encourage their fellow students to make sure they get assignments in on time and do their best in class. Ultimately, they are looking to inspire our students to be named to the Honor Roll.
Tomorrow, in addition to St. Joseph's powwow, there will be a dedication of 'Dignity', a 50-foot sculpture of a Native American woman receiving a star quilt at the Lewis and Clark Visitor Center on Interstate 90 here in Chamberlain. The sculpture weighs 1,100 pounds and is 23 feet wide.  The statue is a gift to the State of South Dakota from the Norm and Eunable McKie family of Rapid City, South Dakota.
The dedication ceremony will go throughout the day and end with a special lighting ceremony in the evening.  Once in place, the statue will act as a beacon of light for travelers on Interstate 90 and will be a highlight of the heritage of South Dakota's Native people.
I hope each of you have a wonderful week.  I'll be sure to share a recap of some of our powwow events in next week's blog. We hope to have a powwow video ready for your enjoyment by Thursday of next week as well!
May God continue to bless each and every one of you.
Fr. Anthony Kluckman, SCJ
Chaplain