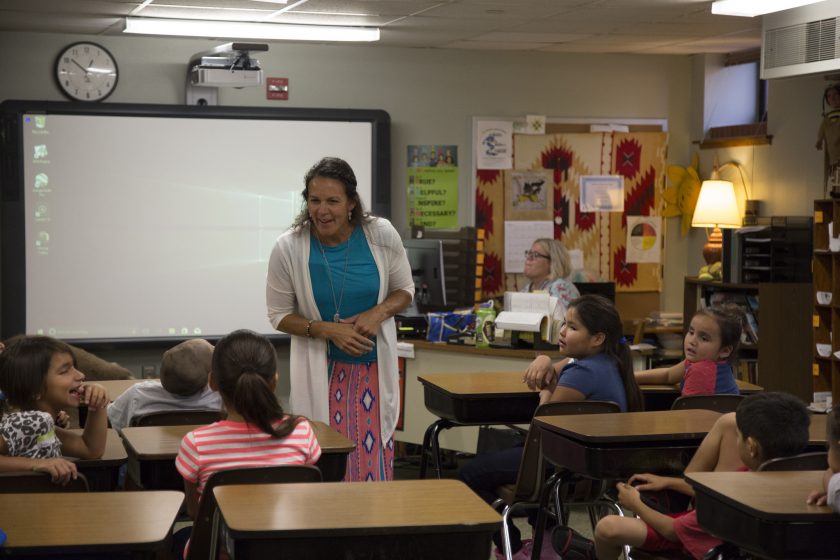 Language is a core expression of a people's existence. It provides identity, conversation and understanding.
However, the Lakota language has been disappearing over the past 400 years, and it is currently considered an endangered language.
It's a fact St. Joseph's Indian School is striving to change that reality by offering as many opportunities as possible for Native American students to learn and use their native tongue.
The bulk of the time this is done on campus, as all students take a Native American Studies (NAS) class. LaRayne, the teacher of NAS for nearly two decades, teaches students Lakota language, culture and traditions. Curriculum and daily routines include numerous cultural elements. For example, students say part of the school's morning announcements, pray, and sing the Flag Song and Happy Birthday song in Lakota. They are also encouraged to use the Lakota "phrase of the day" whenever possible to practice.
"Our students want to speak Lakota," said LaRayne. "In class when a student hears someone speaking fluently, they just smile and say, 'Wow! Keep talking like that!'"
Off-campus opportunities arise for extended learning. Recently, St. Joseph's fifth grade and high school students took part in the Lakota Language Consortium (LLC) Weekend in Lower Brule. Students learned new vocabulary and phrases they can use every day and had a wonderful time.
Slowly, as students become active speakers, there is promise the Lakota language can endure. It can move from endangered, to thriving.
After all, the Lakota culture depends on it.
"Without language, there is no culture. We need language in our songs and our ceremonies. We need it in our hearts," said LaRayne. "We need it in life."
Pilamaya – thank you – for supporting classroom and cultural opportunities like this for St. Joseph's students.
You can learn Lakota words and phrases, too! Follow St. Joseph's Indian School on Facebook for a new Lakota Word Wednesday video every week!