We had two exciting junior high basketball games yesterday and today!
Last year's team had a bumper crop of great players and went undefeated. This year, we have a much smaller group of eighth grade Lakota boys – both in number and in height – and it's been a rebuilding year that takes lots of patience.
But yesterday, against the St. Francis Indian School Warriors, our St. Joseph's kids erased an 8-point half time deficit, and rallied to win by a single point! Getting off the goose egg in the win column had the same excitement for the guys as though they'd won a tournament. I joined the Rooney Home (6th-8th grade boys) for supper afterwards and they replayed some of the exciting moments from the victory.
Today was another nail biter, this time against our cross-town rival Chamberlain Cubs. All of these students have gotten to know each other through our intercity basketball program, and have played both with and against each other many times. Several of the Cubs are children or grandchildren of our St. Joseph staff. It's one of the games on our schedule where you need to get to the gym early if you want a close by parking spot. The lead changed hands countless times, and was tied with a minute to go. Chamberlain made their free throws down the stretch and pulled out a 3 point win. While our team was disappointed it couldn't continue a winning streak, they hustled and gave it their all.
Congratulations to the Cubs, but wait until next year!
With my head spinning from looking at numbers on the budget sheet, I decided to take a break from the office and walk around campus to check out the activities. Our facilities crew is especially busy, with all kinds of projects in various states of completion.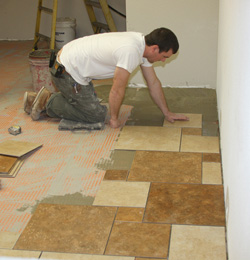 Our thrift store remodeling is on track for a March 1 opening and they're putting in the finishing touches there. Next comes the work of moving all the clothes and household items from the old store to the new.
The kitchen and dining room floor in the William Home remodel is being laid.
The basement of the Benedictine building is getting the sprinklers for fire safety replaced.
Cabinets for the museum's expanded gift shop arrived and are being installed.
A bathroom in the Rec Center is being remodeled to make it handicap accessible.
Our facilities manager, Tom, showed me blueprints of some other projects we will start when the weather turns warmer. We make budget plans a year ahead of time. It's satisfying to see those plans coming to completion.