Good day from St. Joseph's Indian School.
Fall has arrived with brisk mornings and nice afternoons.  The leaves are starting to change, but seem to be taking their time.  I envy those living on the East coast who are currently enjoying the changing of the leaves' colors!
High School Seniors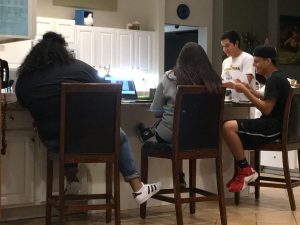 Fall is a reminder to our high school seniors that their academic year is moving along and it is time to start looking at where they would like to attend college. Each senior has been getting a variety of brochures from colleges around the state and throughout the Midwest.
During this process, our high school staff works with our seniors to arrange visit days to travel to different campuses they are interested in. So far, students have traveled to Lake Area Vocational Tech in Watertown, South Dakota where President Obama spoke recently to highlight the school's outstanding reputation.
This week, our students are visiting South Dakota State University in Brookings, South Dakota and Stewarts in Sioux Falls, South Dakota. Later this month, they'll visit University of South Dakota in Vermillion, South Dakota and Mitchell Technical Institute and Dakota Wesleyan University, both in in Mitchell, South Dakota.
Please keep our student in your prayers, that the Holy Spirit will guide them in making the right choice for where their academic interests may be fully developed.
Fall Sports
Fall also means the various sports programs are in high gear.  The Chamberlain High School golf team just finished 4th in the State 'A' competition and had three golfers medal in the top 25, including St. Joseph's very own Danny.  We congratulate Danny and the rest of the team on their achievement!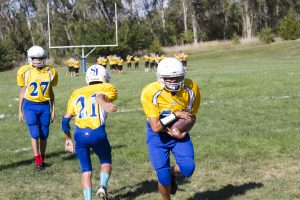 Football is well underway and the Chamberlain High School Cubs have yet to play a second half.  They have been ahead by more than 50 points in the four games they've won and behind by 50 in the one game they lost.  St. Joseph's 7th and 8th grade team is also doing well.
Our 6th, 7th and 8th grade girls' volleyball teams have also been having a great season. One of St. Joseph's own, Danielle, participates in the Chamberlain High School volleyball team. We enjoy watching them do well!
'Flat Francis'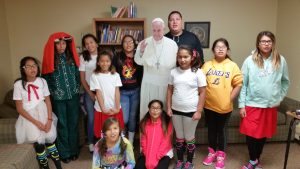 Flat Francis recently visited the girls in William Home and had fun attending a movie in the skating room, meeting some potential houseparents and being stationed by the front door to meet and greet those passing by or stopping in for a visit.  A little birdie also told me that Francis took turns hiding in various places around the William Home to scare unsuspecting houseparents.
I hope your fall is off to a beautiful start and filled with a wide variety of colors.
May we keep in our prayers those in the crosshairs and destruction path of Hurricane Matthew.  May God protect them and keep them safe.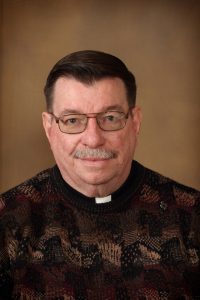 Fr. Anthony Kluckman, SCJ
Chaplain